Treyarch will once again redefine the Call of Duty experience when it launches Call of Duty: Black Ops 4 on October 12. Co-studio head Dan Bunting helps to lead this team of developers in writing the next chapter of the Black Ops franchise.
We spoke to Dan about Call of Duty's history, the core values of making a Black Ops game, and Blackout, Call of Duty: Black Ops 4's own take on a battle royale game mode. Read on for all of that, and more.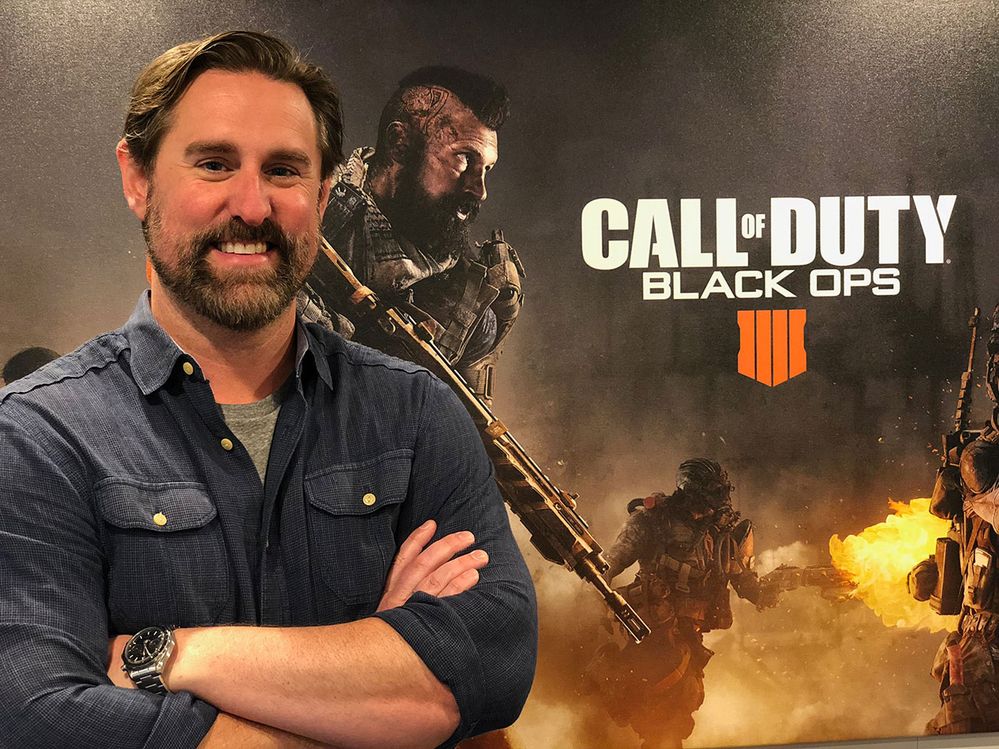 Activision Games Blog: As the co-studio head of Treyarch, what was your philosophy when creating Black Ops 4?
Dan Bunting: When we started Black Ops 4, we knew that we wanted to do something different. We wanted to build something more robust that could be played with friends across the entire game.
We've always had a big, heavy focus on social gameplay experiences in Multiplayer and Zombies, and we love playing multiplayer games, whether it's cooperatively or competitively. I think our fans have also; because we love it so much ourselves, it shows in the game.
We also wanted a game that was as fun to watch as it is to play because, as everyone knows, YouTube and Twitch have really exploded and transformed the industry. People are watching games that they don't even play these days, so it's crazy to think a game as a spectator experience is its own thing.
We wanted to make a game that's deeply rewarding in all things. A game that's easy to pick up, but also has a long and satisfying road to mastery.
How do you work together with David Vonderhaar, Treyarch's studio design director, throughout the development of Black Ops 4?
He and I have worked together for many years. Of course, we have a whole separate Zombies team that's headed by Jason Blundell, so we all have different interactions when developing this game. David and I will start with a conversation about where we come from and where we want to go to next.
On this project, we wanted to go in a direction that reinforced teamwork more to give a deeper layer of tactical gameplay. You can be a lone wolf, but even by passively playing the game, you're going to be contributing to your team. If you want to more proactively be engaged in teamwork, we also want to give you those tools at your disposal.
How have you seen Call of Duty multiplayer evolve all the way up into what we're going to see in Black Ops 4?
We started in the Call of Duty franchise when Treyarch and Gray Matter merged together. Grey Matter shipped Call of Duty: United Offensive in 2004, and what you saw then was Grey Matter's take on Call of Duty. There was a lot more vehicular gameplay, for example, and you saw how this team wanted to do things differently than other games in the series from the very beginning.
Vehicular-focused gameplay carried forward all the way up until World at War. The original Black Ops was the first one that didn't have vehicles, but we still got to sneak one in the with RC-XD Scorestreak.  It's fun for us to now go back to re-explore that with Blackout, by bringing vehicles back into the game in a Multiplayer context.
We tuned the health and damage of the original Black Ops a little bit differently than the previous games in the series to where "time to kill" became a little bit slower than in previous games. You also saw us experimenting with the idea of classes. Call of Duty 3 was entirely class-focused, but in Black Ops, whatever you chose in your Perk 1 slot defined what your character looked like and showed other players what your style of play might be.
We've always liked an element of class-based gameplay because when you have a role, it just means that there's more tactics and strategy.
Besides vehicular gameplay, what makes Blackout different from other battle royale experiences that gamers play today?
Dan: Blackout is going to be something that is uniquely designed for Black Ops and for the fans. We have a long lineage of content and features from the entire series that's going to be exciting for our fans to experience in a completely different way.
You're going to see locations and maps that you've played before — I think people noticed Turbine in that teaser trailer. There's going be a lot of unique surprises in that respect.
I think that it's going to be really thrilling for our fans to play, and of course, it's all built around the fast, fluid, responsive movement and weapon systems that people love about Call of Duty.
You mentioned the spectator experience, and the Call of Duty World League provides the biggest spectator experience in Call of Duty today. What's in store for CWL players when they get their hands on Call of Duty: Black Ops 4?
Dan: Treyarch has always pushed the competitive scene in the franchise, going back to the original Black Ops where we first learned about what pro gaming was like on consoles.
In Black Ops 4, we're going go even bigger than we've ever been before to support our competitive audience. That doesn't mean that we're going to be forcing competitive rules on everybody who's playing; it just means that we're going have a lot more for the competitive players to do.
We haven't gone into too much detail on that yet — within the next couple of months, we'll start talking about more in-depth — but we have said that League Play is coming back. It's going try to capture the magic of what people loved about League Play, which is competing in smaller ladders of people in a similar skill bracket.
Here's more of a personal question: What's your fondest memory from Call of Duty?
Dan: Ah, there's so many! I mean, I've been working in the franchise for almost 15 years, so it's hard to pick a favorite. I would say that I had the pleasure of working on Vendetta in World at War with Tony Flame.
Tony was previously a QA tester and this was his first game as a junior designer. He spent his own time learning the scripting tools, and I got to work with him to make one of the most memorable missions in that game.
It's rewarding as a developer because not only do you get to make a really memorable and awesome and epic experience, but you get to see a young talent come up and develop their skills in a new way. That was, for me, satisfying and rewarding.
Here's the follow-up to that: what do you hope that players remember the most about Black Ops 4?
Dan: Players are going to remember this game for the deep, socially connected gameplay experiences that we're going to deliver. It's going to be a game that's all about playing socially and fun at all levels.
They are also going to remember it as a game that's going to grow and change over time. When the game launches, it's just the beginning. It's going to be a long journey and we want to make a game that changes and grows for many years to come.
Call of Duty: Black Ops 4 is scheduled for release on October 12, 2018.
For more intel about Call of Duty: Black Ops 4, be sure to visit CallofDuty.com/blackops4 and follow @CallofDuty and @Treyarch on Twitter.