Those of you old enough to remember the 'old' days of video games remember how simple things were back then. Controllers had one button and one joystick, and the cartridges that held the games had a maximum of 32 kilobytes of space. Despite all of that, these games were fun!
As a child of the 1980s, if I was lucky enough to convince mom and dad to pick up a new game emblazoned with the Activision logo, I knew that a great experience awaited me once we got home. I would read the game manual from cover to cover while we drove back, and then bask in the glow of 8-bit gaming goodness while I battled aliens, swung over alligator infested swamps, and piloted my plane deftly down a river canyon.
Now you can relive those glory days, or experience them all over again with the all-new Atari Flashback 8 Gold Activision Edition from AtGames. This unit features 130 built-in games, including 39 Activision classics made available again to modern audiences. It's a complete retro experience, wrapped up in a streamlined homage to the classic Atari 2600.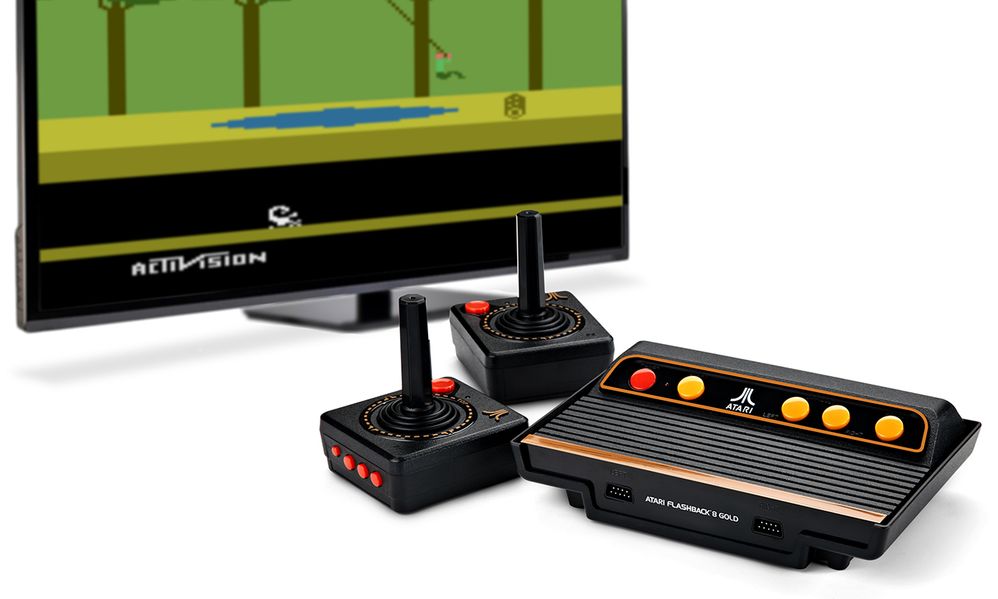 The Activision games include legends like Pitfall!, which is celebrating its 35th anniversary, as well as many other classics such as Chopper Command, Enduro, Kaboom!, River Raid and many more. The Atari Flashback 8 Gold Activision Edition is available right now at Walmart for a suggested retail price of $69.99, and will be available at other retailers later this month. The system includes two 2.4ghz wireless controllers, 720p HDMI output, and controller ports for legacy wired joysticks and paddle controllers.
You might have seen some of these games inside the R&R area in Call of Duty: WWII's HQ, and now you can bring home the full package and take part in some retro solo and multiplayer action.