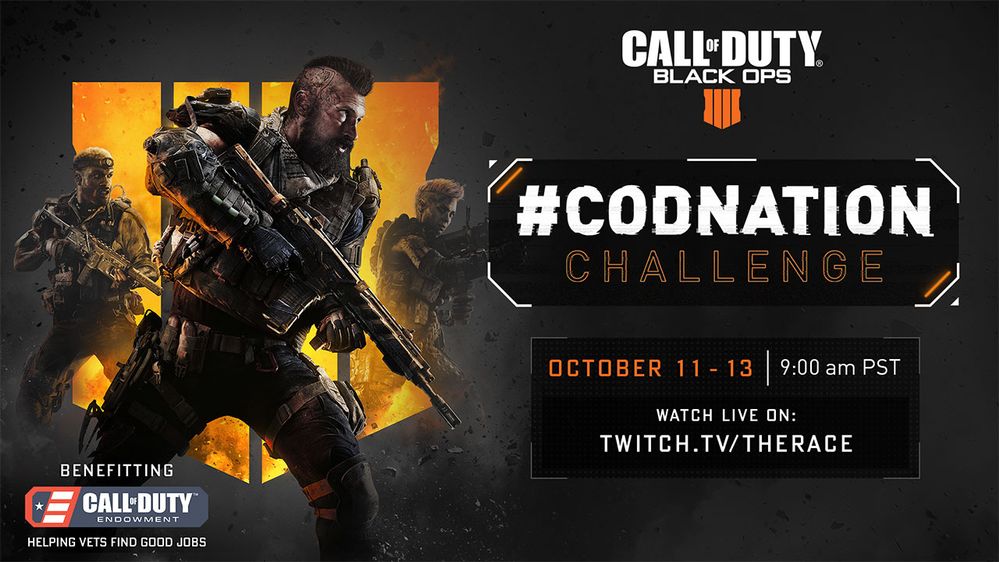 On October 11, Activision and Treyarch will host the #CODNATION Challenge, the successor to the Race to Prestige, a multiday livestream celebrating the launch of Call of Duty®: Black Ops 4 in support of the Call of Duty Endowment.
The Call of Duty Endowment's mission is to place military veterans into high-quality jobs. As of today, the Endowment has funded the placement of over 48,000 veterans with an average cost per placement of $505, one-sixth of that of the federal government. Placements are focused on full time jobs with a high average starting salary.
At the helm of this operation is Dan Goldenberg, the Call of Duty Endowment's Executive Director who has 24 years of active and reserve military service with the United States Navy, where he serves as a captain in the Navy Reserve. Over the past five years, Goldenberg has focused on bringing together the entire Activision Blizzard community — studios, employees, partners, and gamers — to help veterans get the jobs they deserve.
He also helped lead the team behind the #CODNATION Challenge, which he was extremely excited to talk about with us:
Activision Games Blog: Glad you could talk with us, Dan. First and foremost, what exactly is the #CODNATION Challenge?
Dan Goldenberg: The #CODNATION Challenge has evolved from the Race to Prestige, and this is the sixth year we've done an event like this.
This is something that grew out of the community and from huge Call of Duty® fans who were streaming on Twitch during its early days. They — and I'm talking Ernest Le, Jericho, and others — came to us with this idea to get the Call of Duty community together to celebrate the launch of the game and also do good for our veterans. And when we first did this, our awesome streamers played relay style for something like 10 straight days.
They brought the idea to us, so it came from the community. We just tried to build upon it in years since, including adding new modes this year. Black Op 4's promotion is focused on celebrating the community. We thought it'd be a great time to join that with this beloved event, which has led us to the #CODNATION Challenge.
We're going to see the Call of Duty community celebrate the launch of Black Ops 4, and have fun doing it, while also doing a lot of good for veterans. And by the way, if you divide whatever money we raise by 505 that's how many veterans we're going to put in jobs, since every cent we receive goes directly to the employment programs we support!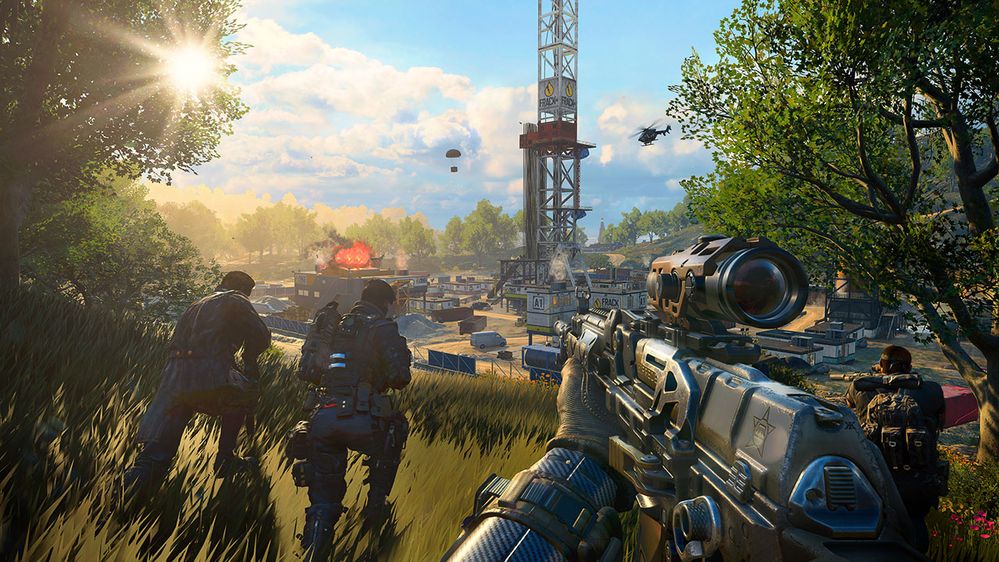 That's awesome – so all proceeds from the livestream event go directly to the Call of Duty Endowment?
Yep! Every penny we receive goes directly toward getting veterans in the workforce, since Activision funds all our overhead costs.  We're incredibly lucky, as very few non-profits can make a similar claim.
What's the difference between the Race to Prestige and the #CODNATION Challenge besides the new name?
There are two really big themes that are different this year:
One is, for the first time ever, it's not just Multiplayer on stream; we're bringing in Zombies and Blackout – we're covering all the modes. Of course, that also means less focus on prestige, but more focus on having fun across the broader Call of Duty world and, most importantly, getting more vets in good jobs.
The other has to do with an expansion of partnerships. When we're done streaming from Treyarch on Saturday, ELEAGUE is going to keep the party going by showcasing top esports personalities in a Black Ops 4 exhibition—also to raise funds for the Endowment!
So this event isn't just one stream?
Yep; there's one main stream from Treyarch that will go from 9 am PST on October 11 to 2 pm PST on October 13, and that will be on non-stop. That's also the one ELEAGUE will take over on Saturday.
We've also got some incredible content creators out there that are going to raise funds for the Endowment on their personal Call of Duty: Black Ops 4 launch streams. So the #CODNATION Challenge stream from Treyarch will be the main stream, but we'll have streamers popping up, having fun with the game, and still helping to raise donations to place more vets in jobs.  I think that's an amazing coming together of #CODNATION!
I don't want to spoil any surprises, but there's going to be at least a dozen of these streams going on throughout the event.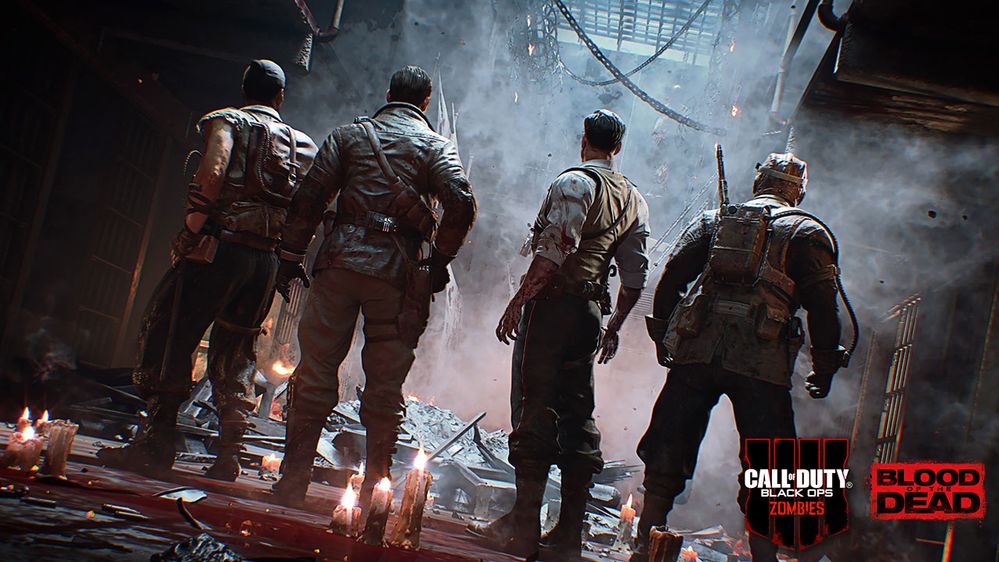 With all this going on, what's going to be your favorite part of the #CODNATION Challenge?
Like everyone else, I think seeing different kinds of Call of Duty players and modes being a part of this event along with the full Call of Duty community is going to be great. We're bringing in Zombies and Blackout, and I think that's going to bring in a broader group of viewers which is super cool.
We want to introduce more community members to the Endowment and the work that people in the community already do to help veterans. These events are always great too, because it's like a reunion every year. You see folks come back to watch year after year, and that's generally Multiplayer fans. But this year, we're going to see much more of the Call of Duty community participate.
How can the community – or should I say, #CODNATION – get involved in this challenge?
The best thing to do is watch and donate! Tune in, because it's going to be a lot of fun, and we have some great rewards for donating. We're going to have really awesome hoodies and t-shirts, some Black Ops 4 Mystery Boxes, and a few special edition Lovesacs, just to name a few.
And of course, there are a few surprises in store, both for prizes and for what's going to happen on stream. So, tune in, tell your friends about it, cheer on your favorite streamers, and get ready to have some fun, because we will definitely be enjoying it ourselves!.
Call of Duty: Black Ops 4 will be released on October 12, 2018. The #CODNATION Challenge will begin streaming live at twitch.tv/callofduty on October 11 at 9 am PST. Be sure to follow the Call of Duty Endowment on Twitter @CODE4Vets for more information, and use the hashtag #CODNATION.
For more intel about Call of Duty: Black Ops 4, be sure to visit CallofDuty.com/blackops4 and follow @CallofDuty and @Treyarch on Twitter.