Originally released on November 6, 2015, Call of Duty: Black Ops 3 is the third chapter of the Black Ops franchise. Whether you are looking to pick up this game for the first time or are playing it all over again in anticipation of Call of Duty: Black Ops 4, here are five the modes and features which are competitive and co-operative, and offer tons of replayability…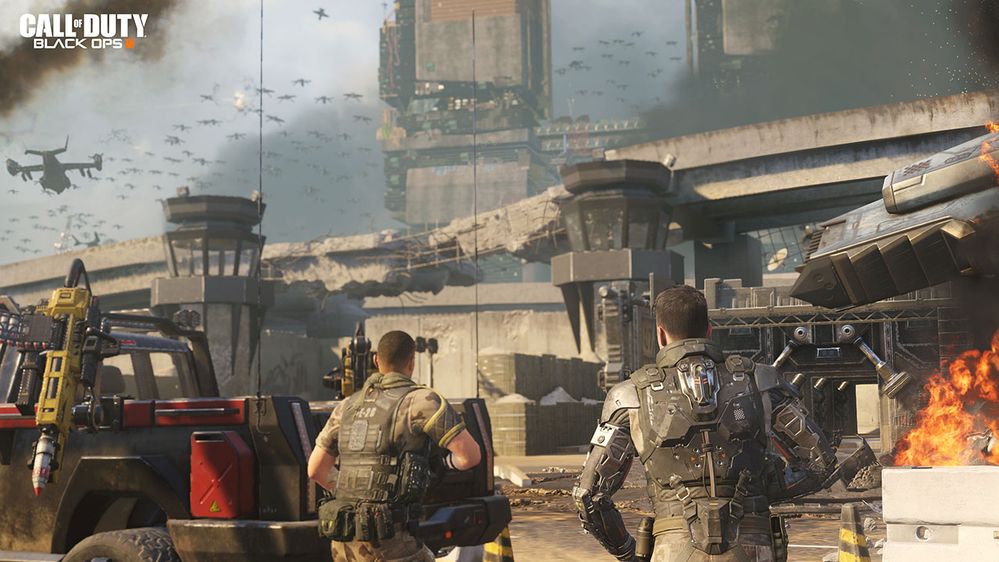 Campaign
Forty years after the events of Call of Duty: Black Ops 2, the world faces a Third Cold War, life-threatening climate change and the fear of a robotic takeover. Your mission is to fight alongside fellow Black Ops soldiers to defeat Corvus, a rogue artificial intelligence that can hack into cybernetic soldiers and computers at will.
This elaborate story filled with twists and turns can be played solo, with a buddy offline, or with up to four players online. Plus, all of its missions are playable in any order, so don't worry about skipping around the story or re-doing an old mission to learn more about the game's plot.
From levels with large scale open battles and branching paths to an ultra-hard Realistic difficulty setting, the Campaign in Black Ops 3 will keep you locked into the fight to protect humanity from Corvus at all costs.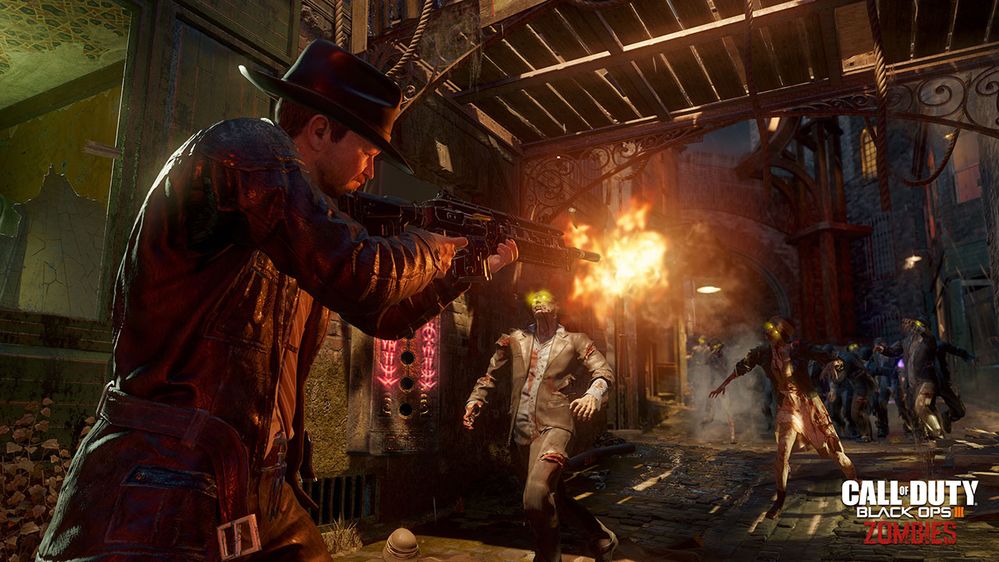 Zombies
If it's a Black Ops game, then it has to include Treyarch's thrilling Zombies mode.
In Zombies, you will fight off waves of creatures while solving puzzles in order to destroy the evil Doctor Ludvig Maxis, who has reanimated the dead with the super-powerful Element 115. Although this mode can be enjoyed alone, completing and figuring out the mode's Easter eggs are best done with a group of friends or members of the lively Call of Duty Zombies community.
Not only is Call of Duty: Black Ops 3 Zombies the continuation of Treyarch's epic tale of the band of heroes known as the Primis crew, but it is also the most expansive Zombies experience to date. It boasts 15 playable maps – two of which are included with the base game – and both newcomers and veteran egg finders can enjoy it for hours on end.
Nightmares
Can't decide between playing Campaign or Zombies? Try Nightmares, an alternative version of the Campaign that mixes in elements from the original Campaign and Zombies.
Rather than Corvus threatening the world, you must save civilization from an outbreak of the undead. Outside of the standard Campaign elements you'll find random Zombies power-ups that can turn the tide of battle, as well as the Magic Box, which can give out game-changing weapons.
Introduce Yourself to the Specialists
Call of Duty: Black Ops 3 Multiplayer introduces players to Specialists, a revolutionary class system that ties playstyles to ten playable characters, each with unique special abilities and weapons. These operatives come with their own personalities, such as the focused and confident assassin Seraph to the fearless veteran Ruin.
All Specialists come with uniforms that can be earned by completing in-game challenges, such as using their special abilities or weapons effectively. There are also plenty of new uniforms and gear that have been added since the game's launch, so there are tons of options when it comes to making your Specialist truly unique.
Along with making their mark in Black Ops 3, many of these characters will reappear in Call of Duty: Black Ops 4 when the game launches on October 12. You'll get to know the Specialists more through the Black Ops 4 Multiplayer and unique solo missions, so consider Black Ops 3 an introduction to these characters who will become your eyes into the next game.
Multiplayer
Since its launch, Black Ops 3 Multiplayer has evolved with tons of new game modes and maps that added even more variety to the standard fare you expect to see in a Call of Duty game. New items, such as weapons and gear, also have been added in over the past two years, turning the in-game Black Market into a superstore.
Speaking of personalization, the game's Emblem Editor is perfect for the aspiring artist who believes the best canvas in the world is on a Calling Card. There are also plenty of other features to play around with in Multiplayer, including private matches, the gunsmith, various party games, a ranked playlist...
We could go on for ages about what's included in this game mode, but above all else, the community is what makes this game a phenomenal experience. Whether they are making masterpieces in the Emblem Editor and gunsmith or teaching newcomers about their favorite classes, the Black Ops 3 community is ready to welcome you with open arms — even if they have to compete against you in a few minutes.
Beat the Clock in Free Run
Free Run is an exclusive game mode that allows you to run, jump, swim and shoot through special obstacle courses.
There are four different Free Run levels to navigate through, ranging from Alpha, its easiest course, to Blackout, a difficult challenge that can trip up even the most seasoned runners. Your fastest time on each course will be saved to the game's online leaderboard, which shows how you stack up against friends and the current world records.
Easy to learn but difficult to master, Free Run is perfect for those craving a challenge or love the thrill of speed-running in video games.
This is just a taste of every game mode included with Call of Duty: Black Ops 3. If you do not have a copy of this game already, consider picking it up if you are looking forward to Call of Duty: Black Ops 4, especially if you want to learn more about Treyarch's epic Zombies timeline.
We'll look for you in Black Ops 3 soon, whether you are in Multiplayer, on the Free Run course or fighting against the undead!
For more intel about Call of Duty: Black Ops 3, be sure to visit CallofDuty.com/blackops3 and follow @CallofDuty and @Treyarch on Twitter.