Spyro the Dragon has been perfectly captured in statue form by First 4 Figures, and ready to bring home to roost! He's 15 inches tall, comes with a colorful diorama background, a detailed base that replicates the exact same fiery platform straight out of the original Spyro the Dragon game cover, and even animated LED lights!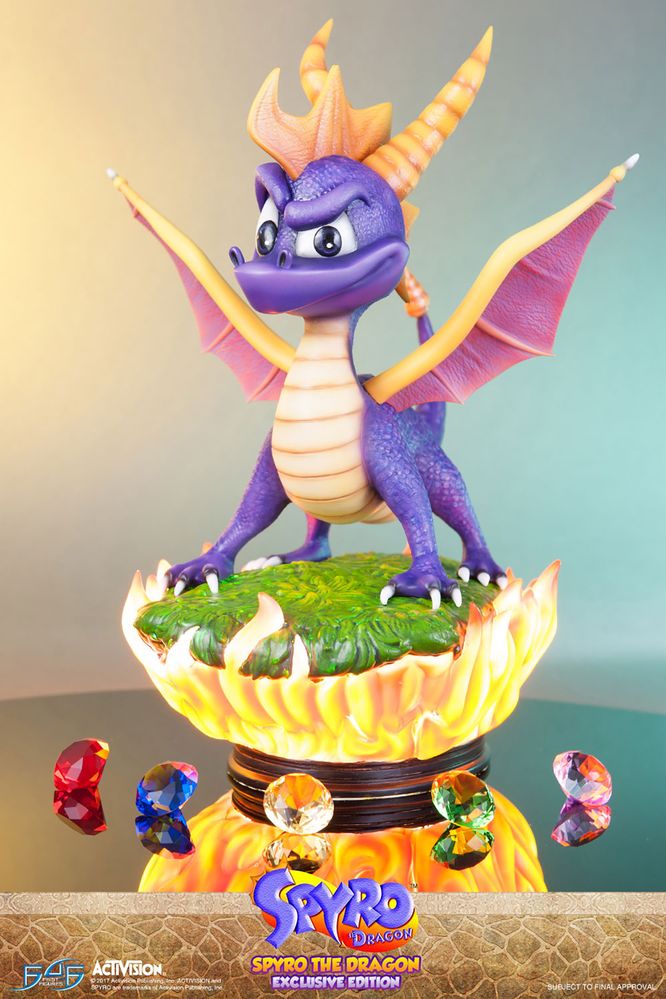 Check out the description from their website:
First 4 Figures is proud to present the highly anticipated Spyro the Dragon statue. Spyro the Dragon was first introduced in 1998. He's known as a young, energetic purple dragon with huge horns and spikes that resemble a mohawk. Spyro is portrayed as mischievous and curious dragon with little regard for his own safety. Spyro is also known as being stubborn and has a somewhat cocky attitude but he's a courageous hero as well.
Being cast in high-quality polystone, every detail on Spyro the Dragon has been captured perfectly, and is finished with a detailed hand-painted finish. Spyro's iconic colours are represented closely to the classic style of the character.
Comes in deluxe full-colour packaging with moulded foam interiors, and an authenticity card that allows you to register your purchase with First 4 Figures online, thus ensuring your product is genuine and allowing you to secure the same number for future statues in the Spyro the Dragon Statue line. 
Spyro the Dragon Statue EXCLUSIVE edition comes with the following:
Spyro the Dragonstatue
Highly detailed base replicating the exact same fiery platform straight from the original Spyro the Dragon game cover
Animated LEDs
FIVE collectible Gems with decorative box
Colourful Backdrop Diorama to replicate the official artwork from the same game
Authentication Card
Pre-orders for this exclusive edition are available now through August 1, so if you want a little (big!) Spyro back in your life, now's the time.
For more information about Activision, bookmark the Activision Games Blog, and follow us on Facebook and Twitter.