Salutations to all of you monsters and ghouls, and welcome to Willard Wyler's Halloween Scream in Call of Duty: Infinite Warfare.
This lively event has taken over both Infinite Warfare's Multiplayer and zombies game modes, and offers a treasure trove of free loot items as well as new modes and Double XP boosts. At first, it may seem terrifying to jump directly into a Boss Battle or the lobby of a brand-new map, but that is where this handy guide comes to your aid.
To those who are ready to brave Willard Wyler's Halloween Scream, here are seven tips to help you get the most out of this limited time event until it disappears on November 1:
Multiplayer Tips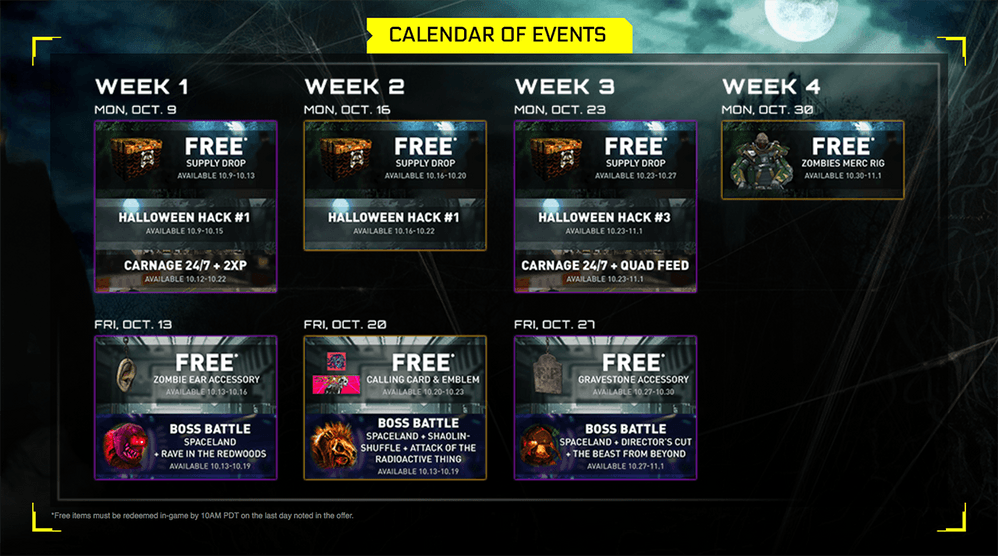 Mark Your Calendars (Or Bookmark Ours)
If you like free in-game Call of Duty® swag, then you are going to love Willard Wyler and his Halloween Scream.
Players who log in each week and take advantage of every free loot drop will receive a grand total of three supply drops, two accessories, a Merc rig skin, a calling card and an emblem.
You don't have to play every day to receive these rewards. All you have to do is log into Infinite Warfare, load up Multiplayer, and head to the Quartermaster to claim your reward. Do this on every Monday and Friday (after 10am PDT), and you won't have to worry about missing out on free items.
Alternatively, you could also keep this website bookmarked to see the full calendar of loot drops and events, as well as find all the information you need for Willard Wyler's Halloween Scream.
Become the Master of Carnage
Carnage, a map that comes with Infinite Warfare's fourth DLC Pack Retribution, is free for all players until November 1. And not only is it free, but it has its own dedicated playlist where you can score Double XP.
Which means if you want to try and knock out those final Prestige ranks by the end of October, it would be helpful to learn the ins and outs of this map.
Traditional Call of Duty combat rules apply on this map, which means you should slap on a submachine gun or a shotgun if you are going to dart between Carnage's buildings, a strategy that could keep you in the action at all times. Plus, with the amount of flanking routes on this map, especially one that has you running along a jagged rock wall, there are lots of chances to pick up quick kills and earn scorestreaks.
Snipers and other long-distance weapon users will tend to stick towards the middle of the map, where a central bridge allows players to quickly get from the one side of the map to the other. Set up shop in the pump room south of the bridge, or north of the bridge in the dirt lot and cliff path, and watch out for counter-snipers as you aim straight down the bridge's center.
The dam area to the map's eastern side also makes for an interesting place to pick off enemies at range. At this dam, there is a seating area for spectators at a demolition derby track. Above this seating area is a red awning, which does not completely cover the seating area and allows for a clear view of the bridge at a certain wall-run height. Master the dam's wall-run, and you'll be picking off foes who cross the central bridge with ease.
Finally, the Burninator is Carnage's main attraction, as it allows you to toast enemies to a crisp with a press of a button. There is a small delay with the Burninator, so it is best used when you are running around it and pressing the button to cut off a flanking enemy or two.
Get the Most out of Double XP
As an aside to the Carnage tips, you can easily stack XP boosts in this playlist if you plan accordingly.
If you don't have a few Double XP tokens saved up already, you may receive a bundle of them in some of Willard Wyler's free Halloween Scream supply drops. These tokens will allow you to gain experience at a ludicrous rate when combined with the Carnage playlist.
After a match, if you complete several challenges or had a fantastic game, pop one of these tokens and reap a serious amount of experience for a job well done.
Boss Mode Tips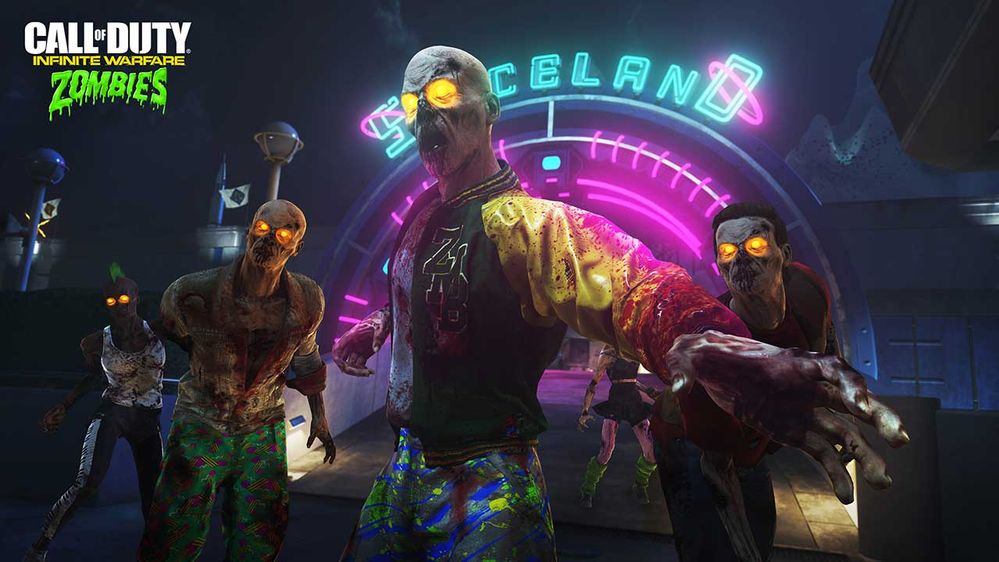 Choose Your Loadout Wisely
Upon spawning into a Boss Mode game, you'll immediately see that it is not your typical game of zombies. That's because instead of jumping straight into the film, you'll spawn in the lobby of the Afterlife Arcade.
Here, you will have three minutes to purchase Perk candy and weapons from the walls in front of you. Most of the films will give you $20,000 to spend on a loadout (with one exception later this month giving you a whopping $25,000), and you are going to need every dollar of it to take on the big, bad bosses.
The prices of all perk candies are equal to that of what they usually cost in a game of Zombies. For example, Tuff 'Nuff costs $2,500, Quickies is $3,000, and so on.
As for weapons, you'll have access to every gun in zombies, including the Wonder Weapons for the film you are playing. Wonder Weapons cost $5,000 each, and are highly recommended for defeating bosses. Every non-Wonder Weapon is Pack-A-Punched once, and they cost a few grand each, with certain weapons costing just as much as a Wonder Weapon.
But the most important part of your loadout is not what you can buy on the walls, for the key to victory against Infinite Warfare zombies bosses is picking the right Fate and Fortune cards. If you don't want to use any of your Fortune Cards, then you can still bring in a stacked deck of base game Fate Cards to each fight if you choose these five:
Scorching Skin: Zombies love to get up close and personal, so having the first ten of them that get a swipe at you burn to a crisp is always nice in a pinch.
Mana Up: Regenerating health faster for 15 seconds is crucial for when you are about to go down for the count, especially when you will not get any of your perks back upon respawning.
Med Kit: Instead of having someone spend money on Up 'N Atoms, pick up this perk and have them revive you faster. Recommended for Multiplayer zombies sessions only.
Best for Last: A card that gives you a damage boost for the last four bullets in your clip for an entire round? Sign me up! Also, don't worry about this card running out, because there are no round changes in Boss Mode.
5 Second Muscle: One of the final Fate Cards you'll unlock by leveling up gives you a damage buff for five seconds after you reload. And like other cards that only last a certain amount of rounds, you won't have to worry about it running out in Boss Mode
Know Your Boss
While Boss Mode is a great way to face the final boss of a film you can't figure out the main Easter Egg for, it can be quite difficult to play if you have no idea how to fight them.
No matter how many tips and tricks you take into each fight, the best way to learn how to beat each boss is practice. We know that dying repeatedly may not sound like practice, but in Infinite Warfare it makes it all the more satisfying when you finally best a brutal boss.
And of course, when you figure out how to beat a boss, try again for a faster time to get more keys and bragging rights on the leaderboards.
It's Dangerous to Go Alone!
As you can see, we're not going to give you the step-by-step guide of defeating every boss in Infinite Warfare zombies, but you don't have to go through Boss Mode alone.
There is a thriving community of Call of Duty zombies enthusiasts who are happy to help you on your quest towards defeating bosses. Except for the Alien Gray Boss in Zombies in Spaceland, it's beneficial to scour the community for a few helpful souls, or call upon your friends to help you defeat Willard Wyler's most diabolical creations.
Plus, if you are really struggling to take down a boss, you may learn a thing or two from the Call of Duty zombies community's collective knowledge. This community is known for cracking some of the most intricate Easter Eggs in Call of Duty history this year, and are currently pooling together to figure out the fastest ways to defeat every boss in the Halloween Scream Boss Mode in as little time as possible.
Whether you enjoy Multiplayer, zombies, or both, we hope these tips help you have a thrilling time in Willard Wyler's Halloween Scream!
For more intel about Call of Duty: Infinite Warfare, be sure to visit CallofDuty.com/infinitewarfare and follow @CallofDuty and @InfinityWard on Twitter.