Sabotage, the first DLC package for Call of Duty: Infinite Warfare, was recently released, giving fans four new multiplayer maps and a new zombies experience with Rave in the Redwoods. Among these maps are new challenges, some familiar territory for Modern Warfare 2 fans, and a continuing storyline for players who just can't get enough Call of Duty Zombies.
Here's a quick breakdown for each of the maps in Sabotage, and some tips to keep in mind as you dive in.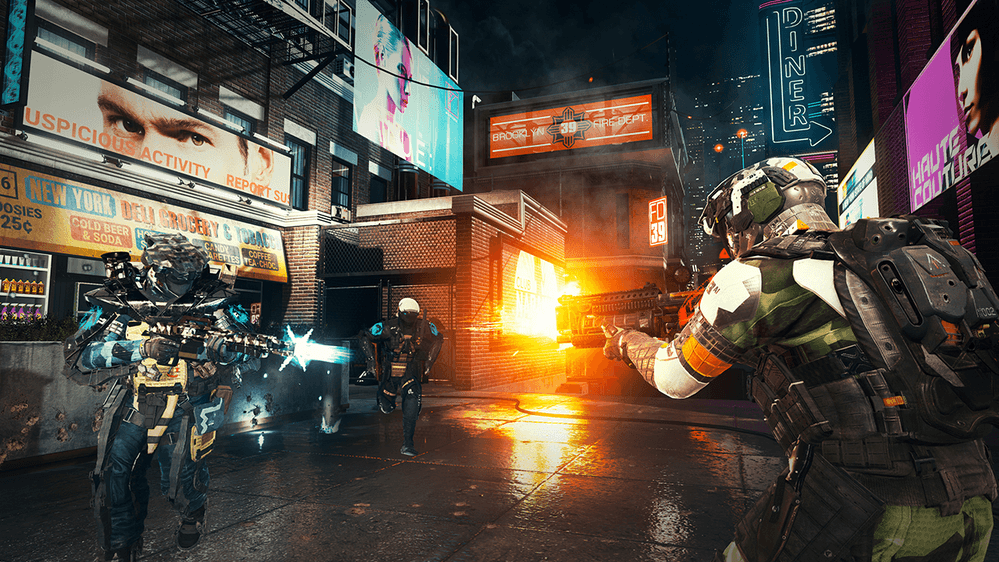 NOIR
An aptly titled map, Noir takes players to a dark and grungy version of Brooklyn, New York in the not-so-near future. Between the rain and the endless night, this map's atmosphere gives you a sinking feeling that you wouldn't want to be caught alone here in a dark alleyway. Noir captures a really cool urban underground vibe with neon lit dance clubs and colorful signs and graffiti that light up this otherwise gloomy map.
With three laneways, Noir offers awesome vantage points and hideouts for every type of player. The space in the center of the map is prime for anyone who likes to get right up in the action, while there are also a ton of sniping spots from barbershop windows and long laneways.
Given the fact that this map works well for many different playstyles, the Warfighter or FTL would be a good choice for Noir. Both Rigs have payloads and traits that allow players to hone whichever elements they consider most important, like offensive power or speed, and the player can make adjustments as they progress to optimize their gameplay here.
Tidbit: The wall with the cat graffiti is a good spot to run from the club to the central courtyard.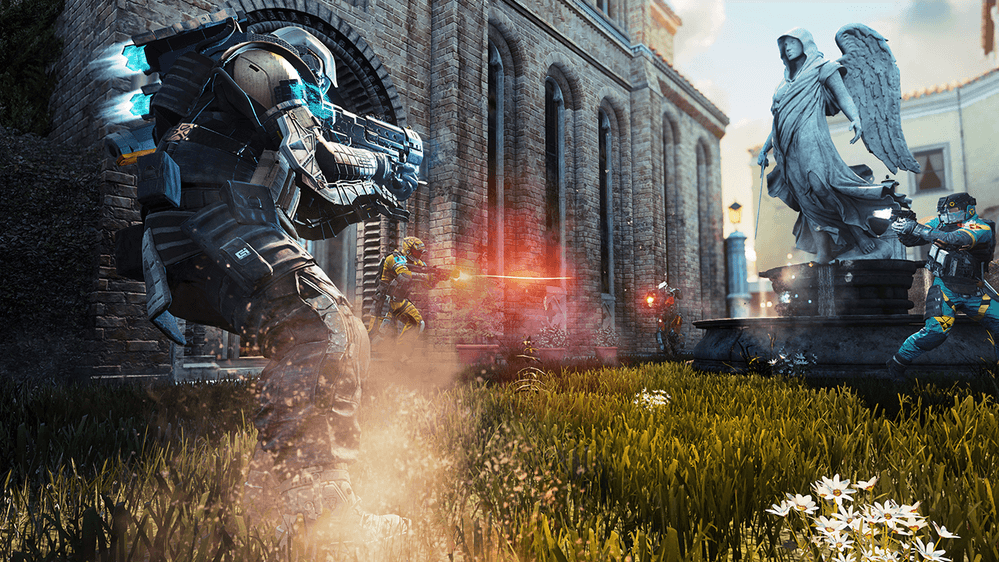 RENAISSANCE
A little taste of Italy that's met some devastation, Renaissance gives players the ability to keep their friends close and their enemies closer. The map is small and gives players few places to hide, which pushes them to take down their opponents in quick, closeup combat. Set up in a figure eight design, it's almost inevitable that you'll run face first into other players on a semi-regular basis. Worth noting: the water surrounding the map is not your friend, and will only lead you to falling off the map in Renaissance.
As Renaissance thrives on providing a tight place for intense gameplay, this map is simply not for you if you love to take down your enemies from high up vantage points. While there are some spots that provide long lines of sight, particularly from the church window towards the opposite window to the east, there are few spots that are simultaneously high up and well hidden. Players that love to snipe will find some degree of satisfaction on this map, but it's far from ideal if you're hoping to remain hidden while you do so.
With this map being on the smaller side, combat in close quarters is both essential and inevitable. That being said, the Synaptic Rig would probably be ideal for Renaissance; with one of the fastest Rigs available, you'll almost certainly be able to reach your enemy before they get to you. Plus with the Reaper payload, you'd have the ability to take out multiple close-proximity targets in short order.
Tidbit: There's a teddy bear hidden somewhere on this map. See if you can find it.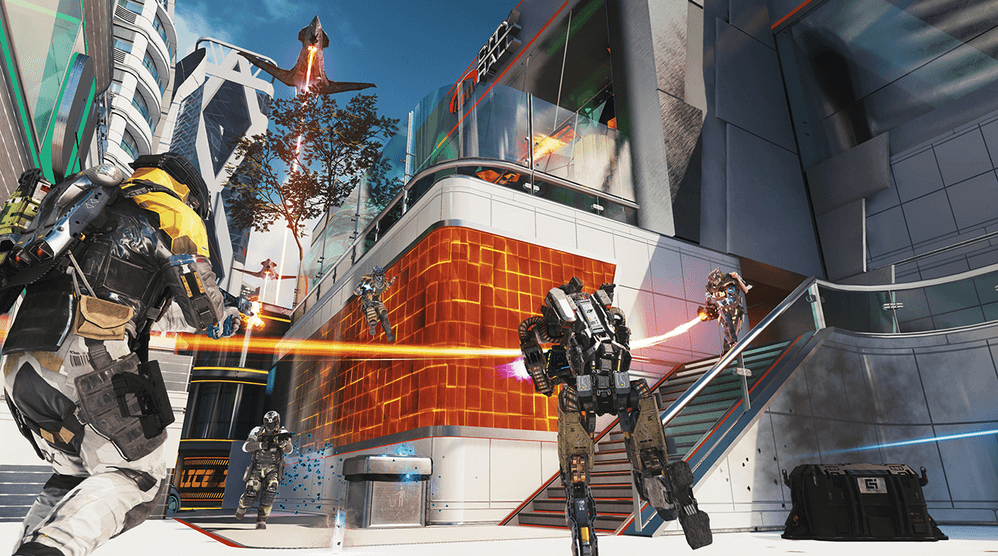 NEON
With a setting straight out of a pixel dream from the computer world, Neon has a bright design that matches well with Infinite Warfare's futuristic setting. This z-shaped map is great for all kinds of players, and features flanking routes that provide easy, covert access to other areas. A nifty thing about Neon is that at the start of gameplay, you'll see vehicles forming in the streets that are made out of blue pixels – when a player is killed in game play, their body explodes into these same pixels.
There are several areas with long lines of sight, particularly in the center, giving players the opportunity to scope out their prey from afar before being spotted themselves. One thing worth noting about this map is that you have to be careful to not fall off. Certain spots can be deceiving as they look like broken ledges that may lead to lower areas. Plot twist: they're not.
Neon is also a wallrunner's paradise, as it has tons of curved walls and buildings that have two-story leveling to them. That being said, the Phantom Rig could be a fantastic choice for players who want to get the most out of this map. With the Active Camo payload, players could quickly make their way to their targets using all available routes without being seen. Meanwhile, the Rearguard trait would give players that extra level of protection while making their way down long pathways.
Tidbit: With the long sightlines outside and interiors for shotgun encounters, Neon is a much more versatile map than it appears.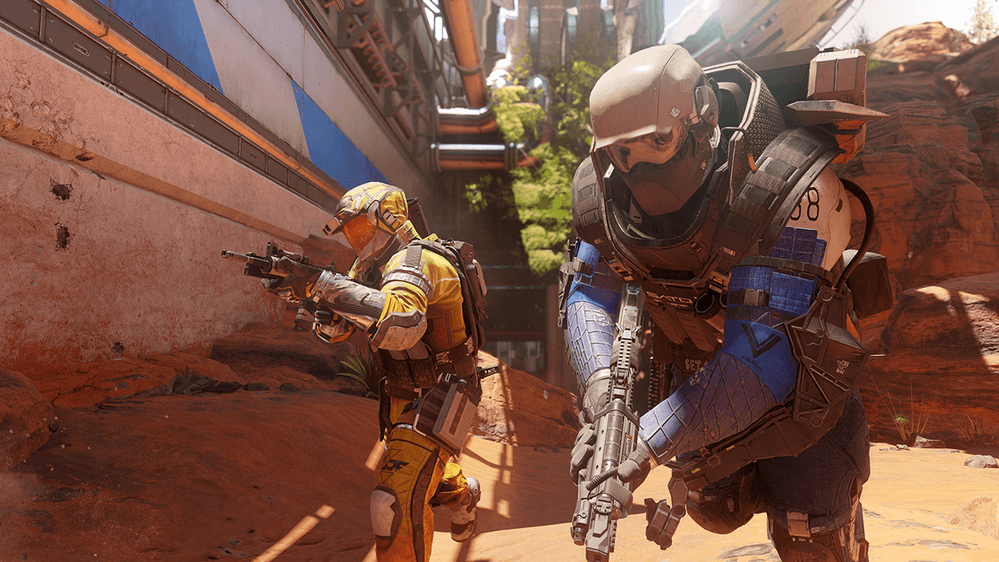 DOMINION
A new twist on an old classic, Dominion is a "reimagined" version of Afghan, one of the largest maps in Modern Warfare 2. While Afghan was situated in a desert battlefield, Dominion takes players to Mars for some interstellar combat.
This map is truly a tribute to the Modern Warfare 2 fan favorite with almost identical vantage points, hiding spots and details – right down to the plants found growing in the northern part of the map. If you're like me and live for up-close combat, the center of the map is action packed, but thankfully features a crashed jet for cover from crafty snipers.
With the beautifully designed vantage points, the Phantom can be a great asset on this map. Equipped with the Pulsar payload, this Rig would be incredibly efficient in such a wide-open space, and players could preemptively locate their targets before sniping from one of the many optimal spots located around the map.
On the flipside, the Merc could also be beneficial if you want to be a bit more active in combat without worrying about snipers. Since the Merc has a strong defensive front with the Reactive Armor payload, players could afford more close-combat attacks knowing they've got a safety net in case of surprise attacks.
Tidbit: The top of the wing remains a good sniping spot, as long as you have someone watching your butt.
Infinite Warfare's first DLC package brings a bit of everything to the table, so it's important to know what you're getting yourself into with each map. Whether you're a sniper or an up-close shooter, being prepared for every type of combat is the key to success. If you've gotten this far, hopefully now you'll have a bit more insight on how to kick ass on Sabotage.
For more intel about Call of Duty: Infinite Warfare, be sure to visit CallofDuty.com/infinitewarfare and follow @CallofDuty and @InfinityWard on Twitter.