1,100 Call of Duty Points***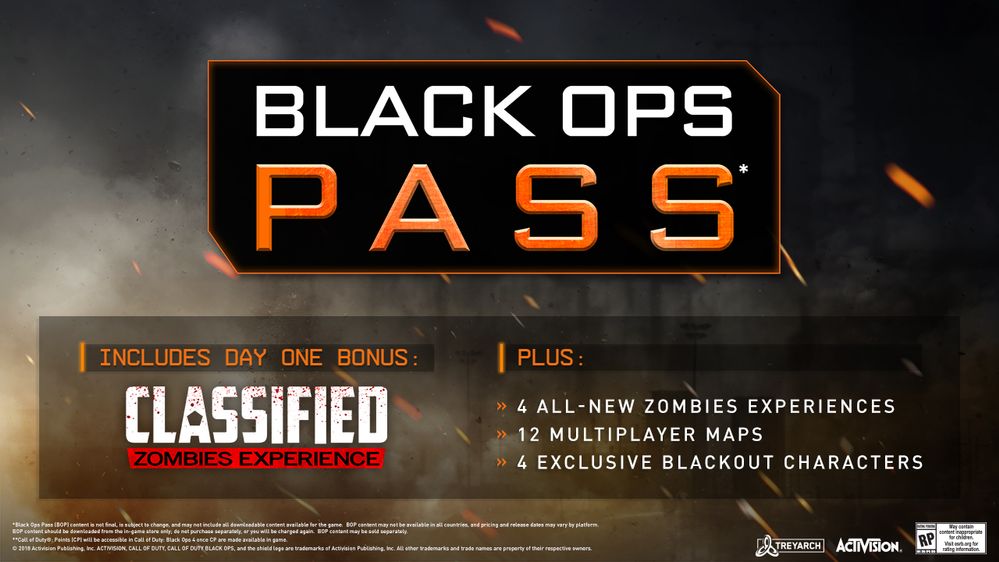 Black Ops Pass
The Black Ops Pass is included in the Digital Deluxe Edition, the Digital Deluxe Enhanced Edition and the Pro Edition, and represents a new approach to post-launch content for Call of Duty: Black Ops 4, including a robust live season for the community. Instead of having four separate content drops, Black Ops 4 fans will experience a more frequent cadence to keep things fresh and deliver new maps and content more regularly throughout the year.
There will be more details soon, but for now here's a list of what comes in the Black Ops Pass, for players who are ready to fully immerse themselves into all three modes of Black Ops 4.
"Classified," a Bonus Zombies Experience, available at Launch
4 Additional All-New Zombies Experiences
12 Multiplayer Maps
4 Exclusive Blackout Characters
The new Zombies experience, Classified, is in addition to the three new Zombies experiences coming at launch: IX, Voyage of Despair and Blood of the Dead. That means fans who pick up the Black Ops Pass will have four total Zombies experiences on launch day, and then four more Zombies experiences to sink their teeth into post-launch with the Black Ops Pass. Now that's a lot of Zombies.
And with a ton of post-release content for all three modes of Black Ops 4, the team is focused on delivering an epic season of content to support Black Ops 4 post-launch. We all know Treyarch's track record when it comes to supporting Black Ops, so fans should expect a ton of community events and a full calendar of franchise celebrations for everybody to enjoy.
We can't wait to share more news about Call of Duty: Black Ops 4 with you. Stay tuned for more information as we count down to launch on October 12!
For more intel about Call of Duty: Black Ops 4, be sure to visit CallofDuty.com/blackops4 and follow @CallofDuty and @Treyarch on Twitter.
*Private Beta pre-order offer does not apply to PC platform version.  PC pre-order beta access details TBD.  Actual platform availability and launch date(s) subject to change.  Beta may begin on different dates for each platform.  See www.callofduty.com/beta for more details. Minimum Beta duration is 3 days. Limited time only, while beta codes last, at participating retailers. Internet connection required.
** Black Ops Pass (BOP) content is not final, is subject to change, and may not include all downloadable content available for the game.  BOP content may not be available in all countries, and pricing and release dates may vary by platform. BOP content should be downloaded from the in-game store only; do not purchase separately, or you will be charged again.  BOP content may be sold separately.
*** Call of Duty Points (CP) will be accessible in Call of Duty: Black Ops 4 once CP is made available in game.