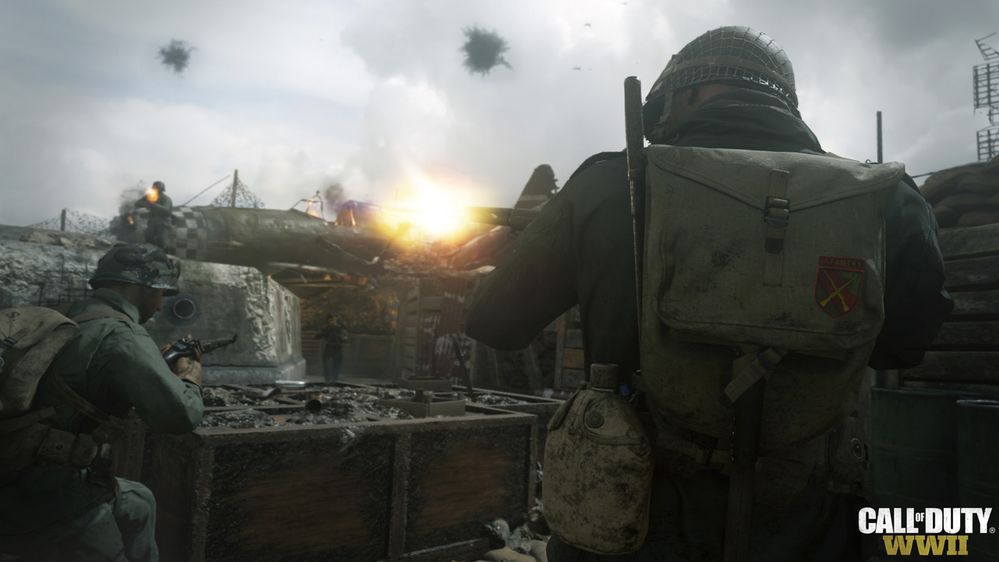 A lot of people have been talking about Divisions, how did the team decide to fundamentally change Create-A-Class for this title?
In returning to the Call of Duty World War II roots, we had the opportunity to look at all parts of Multiplayer and decide how to redefine the create-a-class experience. And with World War II, enlisting in the conflict were just common men and women were going off to fight.
Divisions was our way to provide players with a way to enlist in the experience, to give it real meaning and to have important decisions that impact your gameplay experience. With the five different Divisions, each one has specific weaponry and skills that reinforce its playstyle. You'll begin with your enlistment in Headquarters to start your training. You get your gear, and you get your iconic Division weapon and right away you'll start to deeply identify with your character.
We want your Call of Duty player character to be a valued part of your in-game experience and for you to invest in your character, and to take them into the Headquarters social space that is powerful and meaningful.
I know that the team is still working on the game, but when you play, what Division do you go with?
The great thing is that players will play as multiple Divisions and level them up, so for it depends on the map and the mode being played. My most common Division currently is Airborne. I love running Airborne because you get the attached suppressor, which is your weapon skill. You're fast and armed with a high rate of fire submachine gun, like the M1928, which is great because I love to get straight into the battle.  It's my go to on Pointe du Hoc.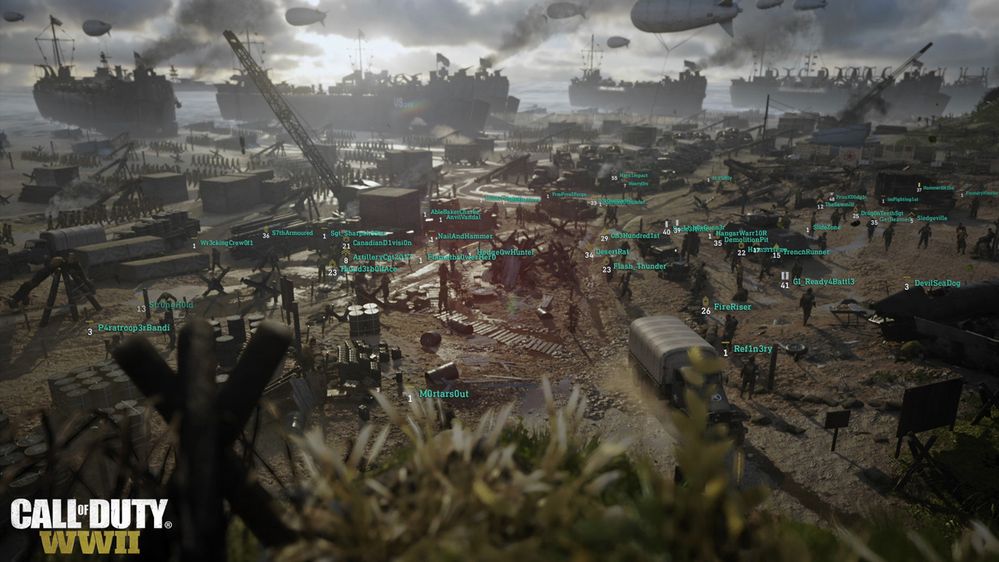 Does Headquarters feature ways to draw players into both the Campaign and the Multiplayer experience?
Headquarters will be where you start and end your Multiplayer play session, and part of that experience will be engaging with the community in true firsts for the franchise. Your requisitions officer will give your daily and weekly mission challenges. Your mail officer is where you can get updates on the game and the community. You have lobby Leaderboards where you can see other players' progression and performance. So the plan is that when you go into Headquarters, sometimes your Challenges will be experiences in zombies, sometimes it will be asking you to go play something in War Mode, go to the Firing Range, and elsewhere across the full game.
We're trying to provide a singular destination where you start and end every experience, independent of which mode you go to. You might be with your buddies in Headquarters and go off and play a match in War Mode and then come back out and immediately walk down and launch the zombies experience right from there.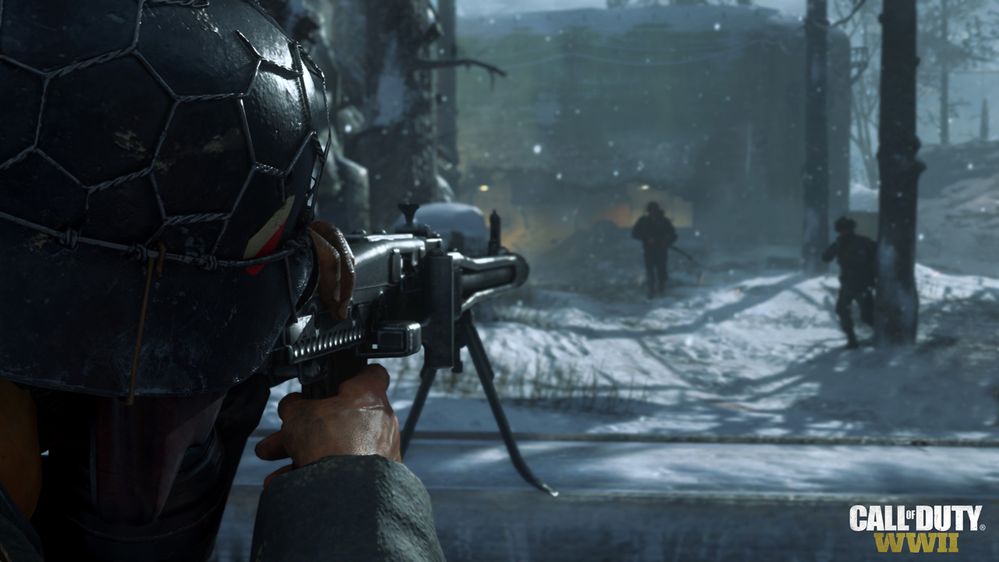 The two maps that have been introduced to players at E3 are Pointe du Hoc and Ardennes, which were iconic locations during World War II. How did the team go about selecting locations for Multiplayer?
We wanted very iconic locations that would be special, and we wanted locations that really spoke to the gritty and intense conflict that occurred. We also wanted to showcase the scale of the European theater. Ardennes was a brutal conflict where the Battle of the Bulge took place, and many brave soldiers fought and died in that forest. In the background, you can see the iconic Dragon's Teeth tank traps, which were part of the German Siegfried line.
Pointe du Hoc was another incredible conflict that happened when the US Army Rangers had to scale the cliffs to take back a strategic location above the Beaches of Normandy. We were looking for iconic locations that people could really identify with from the conflict, like Gibraltar, Paris, and the edge of the Russia front. And we wanted to give players a variety of gameplay experiences by having unique layouts that encouraged a variety of playtests. The Gustav Cannon map for example, which you can catch of few glimpses of in the trailer, is a more open experience. That map is great for LMGs from the Armored Division and sniper rifles from the Mountain Division.
We literally walked through the fox holes at Ardennes, we climbed the rock at Gibraltar, we went to the cliffs of Normandy. I don't think we could have gotten the feel of these maps right if we hadn't gone and literally walked in the footsteps of the soldiers of World War II.
Players at E3 were able to play War Mode, which is a brand-new experience that goes beyond traditional Multiplayer. How did the team decide to build that?
Nearly three years ago, we were talking about the Campaign level of D-Day, and we were talking about how it is so iconic and that we had to have it the game. But I also remember us talking and saying, 'Can you imagine truly seeing D-Day from the Axis perspective?' It led to an idea that we have an opportunity to put players into a brand-new MP conflict, and have them experience these pivotal battles from both sides of the war. So, we started prototyping early considerations, and it was really interesting, and it developed into a lot of fun.  We're working with Raven on this, and will have a lot more coming in War Mode, and we can't wait for fans to experience it.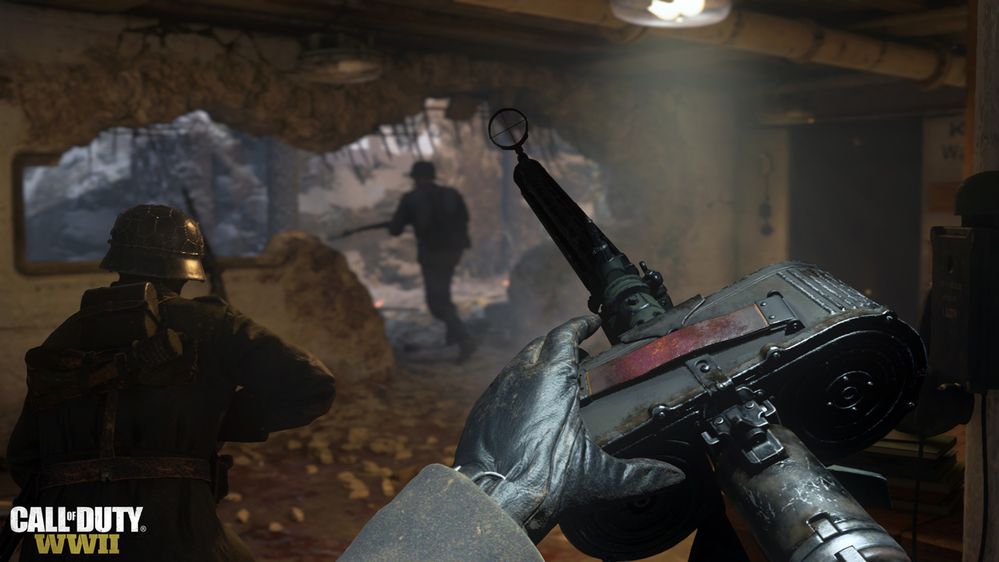 How has it been watching players experience the game for the first time?
It was really exciting for everyone at Sledgehammer Games to be at E3 with Call of Duty: WWII, and it was very important to us that we had fans at E3 playing MP for the first time here. After seeing the reveal trailer, the booth, and the lines of fans waiting to play, I had a grin on my face like a kid at Christmas. I'm so glad the fans are getting to experience this with us, and I'm incredibly thankful for all of the hard work put into the game and the show by everyone at the studio and across the Activision Call of Duty organization.  The feedback so far has been incredible, and there is so much more to come as we share additional details in the coming months.
For more intel about Call of Duty: WWII, visit CallofDuty.com/WWII and follow @CallofDuty and @SHGames on Twitter.