At San Diego Comic-Con 2018, Treyarch's Director of Communications John Rafacz welcomed Zombies Director Jason Blundell and Lead Writer Craig Houston to the stage to celebrate the 10-year history of Call of Duty Zombies, and to reveal some new secrets and goodies as part of that celebration.
Rafacz, who has been working with Call of Duty since Call of Duty 2: Big Red One back in 2005, said that he remembered hearing rumors about some sort of Zombies related Easter Egg that was a part of Call of Duty: World at War back in 2008. He thought that it sounded crazy, but he was urged to just give it a try. "And I did. And it was awesome."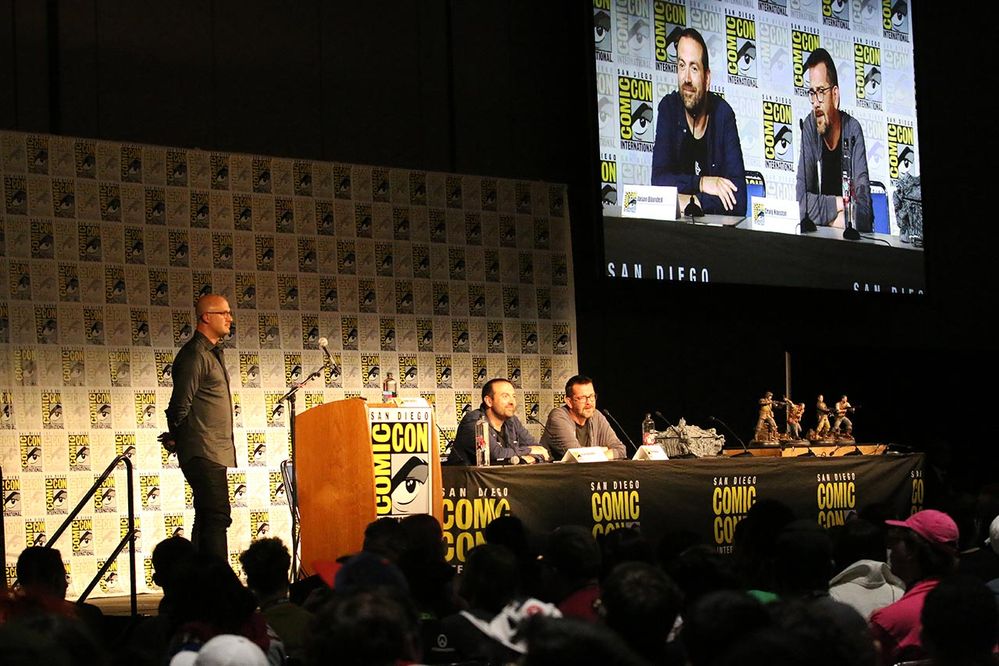 What followed was a game mode that has turned into a full-fledged phenomenon, complete with an epic timeline, plenty of hidden secrets, and an extremely passionate community. Blundell was excited to be celebrating the rich history of Zombies at a panel at Comic-Con, and to be celebrating it with that community, to which Houston chimed in and jokingly added in a movie-trailer voice, "That's right, and this time… it's personal."
Houston remarked that working on a mode like Zombies in Call of Duty: World at War seemed like a ridiculous notion at the time, but has marveled at the growth of both the mode and the community over that time. Blundell added that Zombies has always been about risks and experimentation, and that "Going in a direction that is unexpected is a part of the DNA of Zombies."
Houston went on to add that part of what they get to do when working on Zombies is to collaborate with so many people, including amazing artists like Simon Bisley, who first worked with the team when he created a poster for the Call of Duty: Black Ops III Zombies experience, The Giant.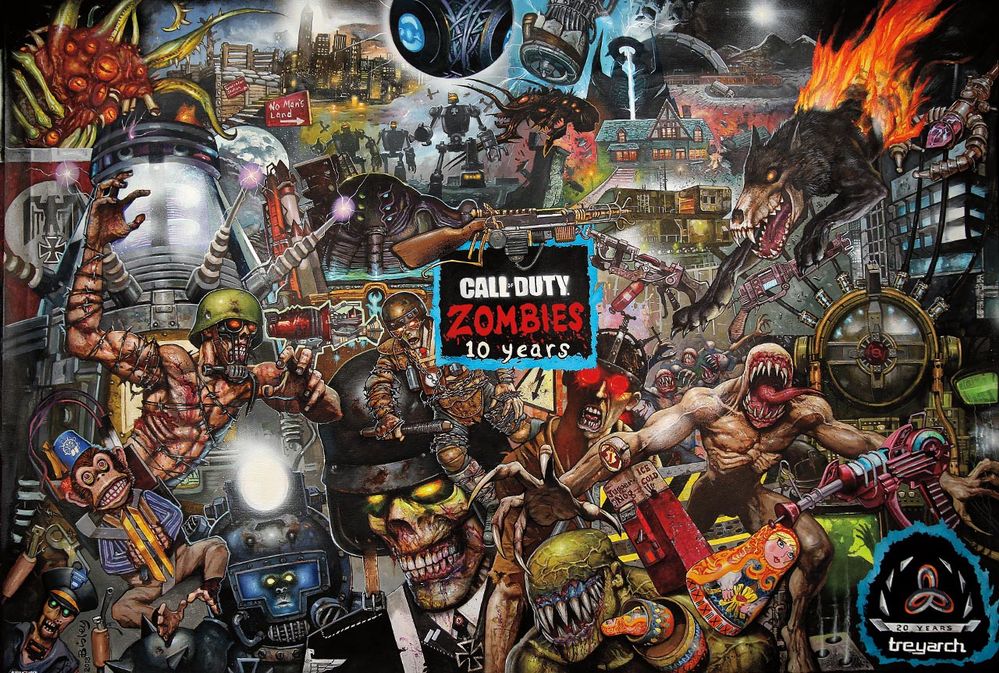 Bisley has created a unique, hand-painted image that celebrates the 10-year history of Zombies. Lucky attendees at the Comic-Con panel were given a print of this epic image, and it will also be included as a 1,000 piece puzzle in the Call of Duty: Black Ops 4 Mystery Box Edition, which was also announced at the panel.
Blundell moved from past to present as he talked about working on Mob of the Dead as part of Call of Duty: Black Ops II, and how excited he is that players will get to experience it through the eyes of the Primis crew for the first time when they play Blood of the Dead in Call of Duty: Black Ops 4. "We get to revisit the fearsome foursome once again!"
He explained that revisiting the story and changing it is because history can change. "The timeline is not entirely complete. The pages of the Kronorium can change and challenge your expectations… it's a real battle to keep the story on the tracks, and that's part of the fun of it." Blundell went on to say that Blood of the Dead is one of his favorite Zombies experiences that he's ever worked on and that, "I can't even say anything about it" for fear of spilling secrets.
He then went on to say that the Zombies panels at Comic-Con have had a tradition of sharing something never before seen with the audience, and the team has kept that alive by sharing the intro cinematic for Blood of the Dead. As it turns out, they weren't quite done with the Primis crew as they unveiled the four collectible statues that have been created, based on the Call of Duty: Black Ops II – Origins. The first statue, Richtofen, is available for pre-order now at the Call of Duty Store, while supplies last.
Turning from the Aether story in Call of Duty: Black Ops 4 to the newly-minted Chaos plotline that players will be able to experience in IX and Voyage of Despair at launch, Blundell remained fairly tight-lipped about the game, but did reveal two details.
First, there will be Factions in Black Ops 4 Zombies, complete with their own quests and narratives. These Factions will add another dimension to the story, as players choose to side with the Bloodfaith, Tempus Novi, Dustborn or The First Legion. Blundell added that these Factions will add a new layer to the Zombies experience, "Who do you stand with, and what does that mean as you progress along that path?"
Second, yes you can fight the Zombie Tiger that was seen in the recently released Chaos trailer. However, he went on to mention that the Tiger is not the main boss of that level. We imagine that it will probably be something even more terrifying than a Zombie Tiger.
Houston talked about the epic narrative that the team has created for this game and announced that it would grow beyond the screen with the Call of Duty Zombies four-part comic book that is being published in partnership with Dark Horse Comics. This series tells the story of how the characters met, and how they decided to form their crew.
And that was a wrap for the panel! We'll be at Comic-Con with more information about what we have going on at the show, so follow along with us!
For more intel about Call of Duty: Black Ops 4, be sure to visit CallofDuty.com/blackops4 and follow @CallofDuty and @Treyarch on Twitter.