Solos. Duos. Quads.
These are the three main ways to experience Blackout in Call of Duty: Black Ops 4 during the Blackout Beta, available now on PlayStation 4, Xbox One and PC.
But no matter which you pick, make no mistake: all three approaches provide the ultimate tactical survival experience, and there is no wrong decision when choosing between them.
Whether you are a newcomer to Blackout or a battle royale veteran in need of a fresh challenge, here's what you should consider when choosing your Blackout experience:
Fly Solo
Solos is an option for players who are true mercenaries and only want to carry themselves across Blackout's landscape. It's also a good option for players who want to train up on weapons, equipment, perks and map knowledge. With only your senses and your HUD to rely on, Solos can provide a trial-by-fire that can provide plenty of learning experiences for your future drops.
Tip: Pack light, loot quickly.
If you've jumped into the fray on your own, you should consider arming yourself with whatever you find – after all, things typically don't work well when you bring your fists to a gunfight. Besides, you can always swap weapons along the way if you come across something that better suits your playstyle. If you're a close-quarters player, consider a shotgun, SMG, or pistol – if you're a distance player, sniper and tactical rifles will come in handy. And it's never a bad idea to pick up as much ammo, first aid, and the best armor you can find.
Quad Up
With a full Quad of four players, you could have more time to loot and explore when you have a buddy at your six. Also, four heads can be better than one when deciding where to drop in, what to loot, and how to clear out any threats. It's also a great social experience, whether you play with people from your friends list or with random online players.
Tip: Communication is key.
One of the most important skills in Blackout is turning on the microphone and using your voice. When you are down and in need of a revive, ask a teammate. If you happen to come across a Ray Gun, but already have two weapons that suit your playstyle, tell your teammates where it is.
And if you are listening to all of the chatter, we recommend not muting your headset. Learn to use that information by calling out bearings when you spot the enemy, coordinate your approaches, and work together as a team.
Deal in a Duo
Duos can allow for a smaller team tactical experience with a bigger emphasis on individual performance, because both players in a duo need to operate in sync and be on their game to outlast the competition. Having your Duo buddy patrolling the room can be helpful when stocking up on first aid and munitions for the fights ahead, and vice versa.
Tip: Stick close
Duos can work in tandem when they drop into the same area on the map and remain close enough work together and back each other up. Try not to stray too far away from your partner, or they might end up in a tough 1v2 with no way out and no chance to be revived.
Much like Quads, Duos have the potential of operating most effectively when they communicate with one another. Of course, nothing is stopping you from loading into a Duo or a Quad and lone-wolfing it. In fact, it can be a totally viable option that can find you closing in on the collapse from opposite sides and squeezing the enemy in the middle.
Those are the three main game modes to load into in Blackout, but there is one more experience that is very difficult, yet extremely rewarding: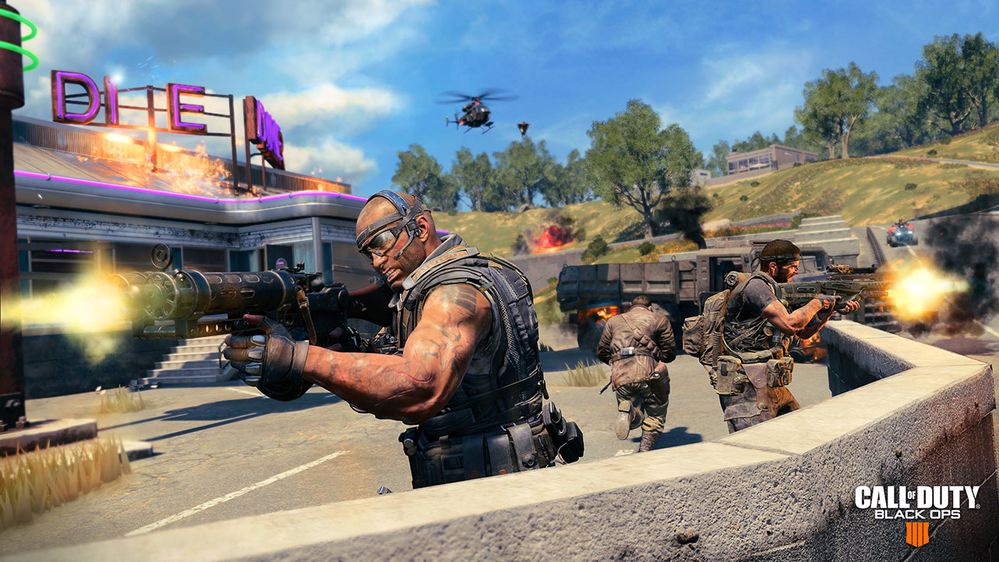 Load into Duos or Quads Without Filling Your Party
Right above the big shiny button that says "Deploy" is the option to "Fill Squad." Usually, it is on by default, and it only affects Duos and Quads games. Changing this setting to off will launch your game without filling up your squad and load into a game of Duos or even Quads.
Tip: Be patient
By deselecting the auto-fill option, you play at a disadvantage against full Quads or Duos. This way of playing Blackout is not for the faint of heart. A solo player will have to face 2v1, 3v1, or even 4v1 situations in this experience, which means that the fights will be tough, but the payoff is incredibly rewarding.
The Blackout Beta will last until Monday, September 17, so drop in and experience the biggest mode Call of Duty has ever offered. You can access the beta by pre-ordering Call of Duty: Black Ops 4 now at select retailers.
Call of Duty: Black Ops 4 will be released on October 12, 2018.
For more intel about Call of Duty: Black Ops 4, be sure to visit CallofDuty.com/blackops4 and follow @CallofDuty and @Treyarch on Twitter.