Call of Duty: Black Ops 4 is now available around the world, and in addition to an epic game packed with Multiplayer madness, Zombies adventures, and battle royale galore in Blackout, where will also be plenty of new Black Ops themed merchandise that you can pick up to show off your loyalty and fandom.
Whether you want to wear the Black Ops 4 shield on a hoodie or know an avid collector of limited edition statues and figurines, here's our selection of great gift ideas for the Call of Duty fan in your life… including yourself.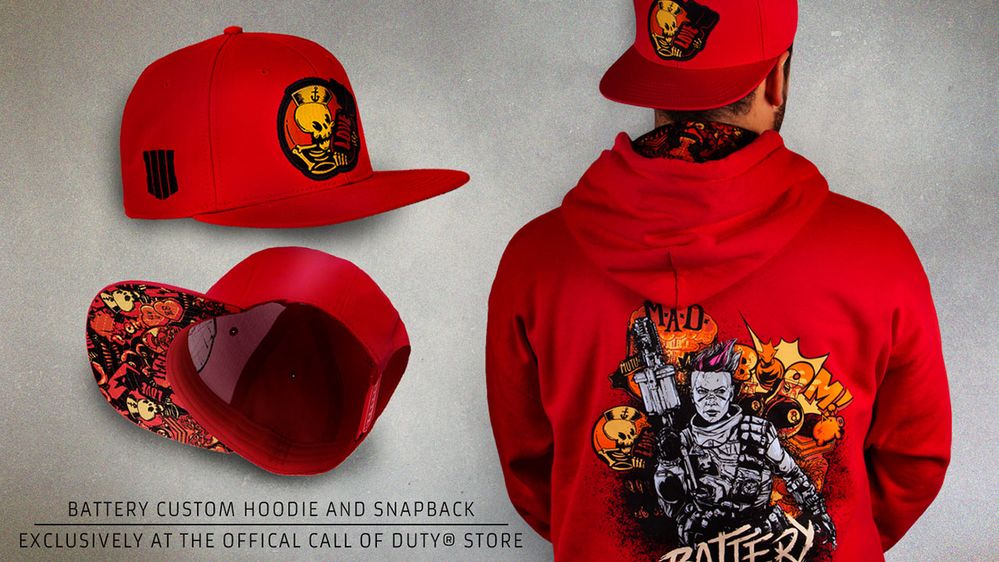 Head over to the Call of Duty Store
Your first stop when looking to buff up your real world loadout should be the latest merch on the Call of Duty Store. While you're there, be sure to subscribe to their newsletter. First-time subscribers get a discount code good for 15% off, and they'll email you about sales and special items in the store.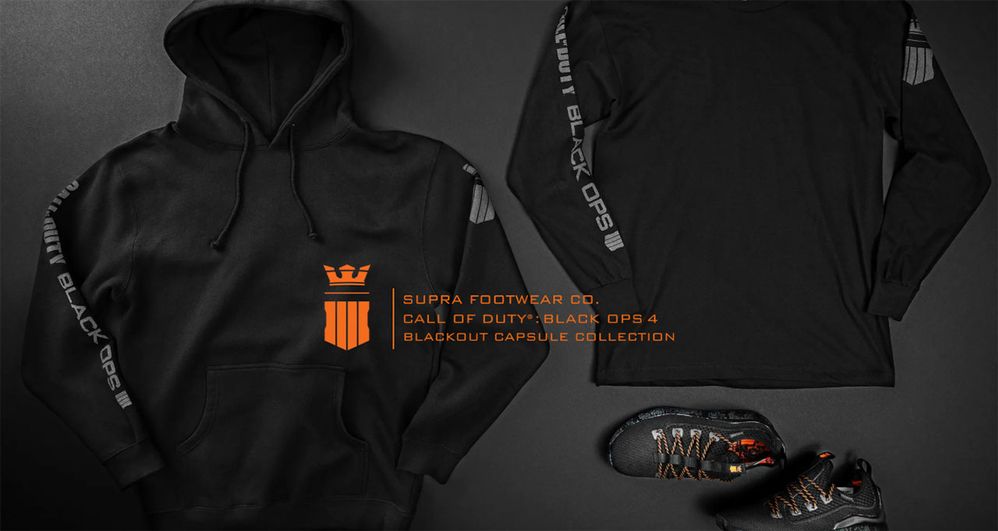 Suit Up with the Call of Duty: Black Ops 4 Blackout Capsule Collection
Need a pair of fresh kicks, a fly hoodie, or a swank long-sleeve shirt? Supra is putting out a limited edition release of some very cool Call of Duty: Black Ops 4 Blackout swag, and it looks pretty fresh.
This collection features a custom colorway of the Factor sneaker ($95), as well as a custom Black Ops hoodie ($70) and long sleeve shirt ($70). This limited-time trio of Black Ops swag drops on October 15th, but pre-orders are available now.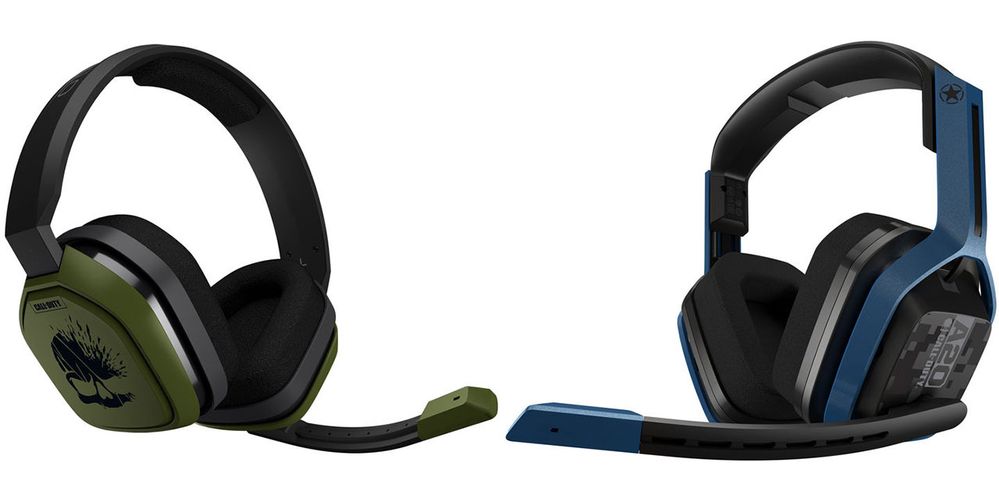 Get Your Ears in the Game with Astro
After you get the game, complete your loadout by picking up an Astro Headset to get superior in-game sound, which you'll definitely want when listening for enemy footsteps in Blackout.
Astro Gaming has a range of headsets that differ in price and features, like the Call of Duty A10 Wired Headset, which comes with Game:Voice Balancing and 40mm drivers to ensure you can hear your game and your teammates with clarity and precision. At only $69.99, it makes for both an affordable and quality headset.
For those true audiophiles who hate cords getting in the way, the Call of Duty A20 Wireless Headset delivers a 15-hour battery life with superb audio quality for $149.99.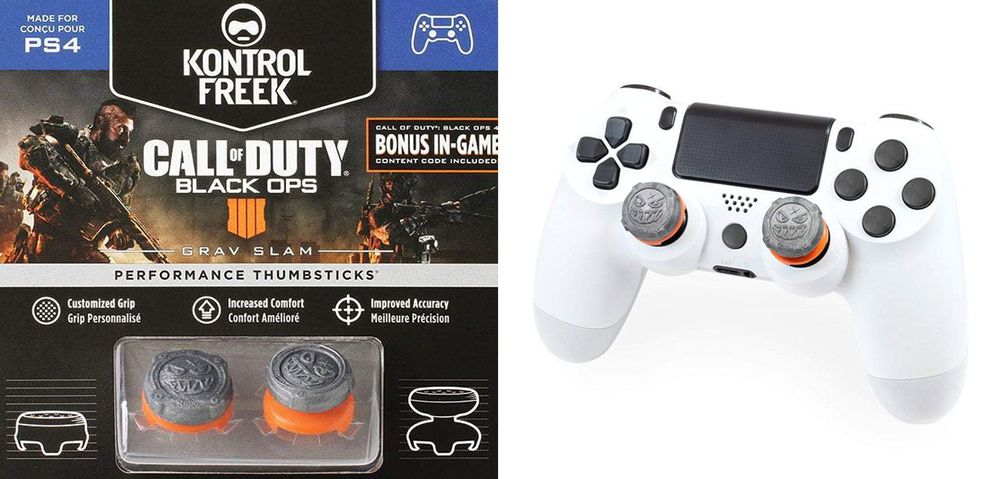 Be in Control with KontrolFreeks
KontrolFreeks are designed to meet the ergonomic and performance needs specific to Black Ops gamers, especially with their special edition FPS Freek Call of Duty®: Black Ops 4 Grav Slam Performance Thumbstick. Featuring Ruin's details from Ruin's Specialist weapon, this pair of thumbsticks can improve aiming, boosts your movement range of motion by up to 120% and gives you an enhanced grip on both sticks. Plus, it comes with a free in-game Target Practice Calling Card!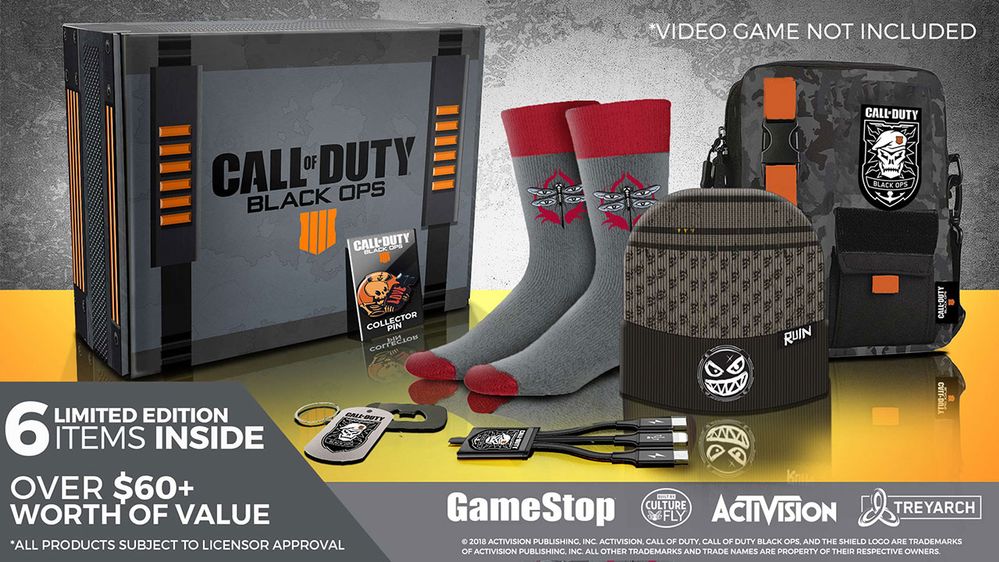 The IRL Care Package: Culture Fly Black Ops 4 Collector's Box
The Culture Fly Black Ops 4 Collector's Box is a perfect mix of goodies straight out of the minds of Culture Fly, Activision and Treyarch. Exclusive to Gamestop, this box includes a pair of socks and a beanie, which come in handy when you "call in sick with a cold" and need to warm up while playing some Black Ops 4.
This box also comes with a utility bag, a multi-prong USB adapter, a keychain and an enamel pin.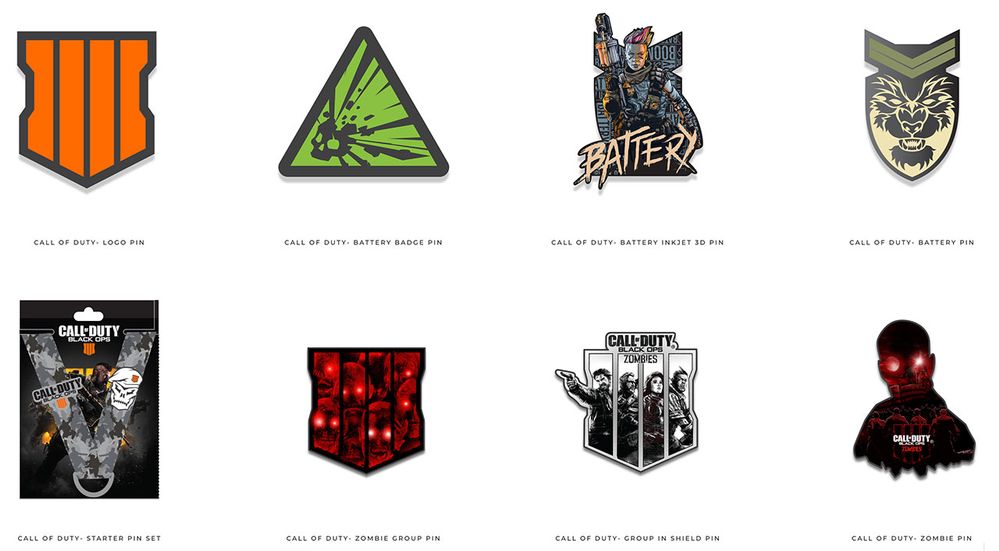 Collect them all! Limited-edition Call of Duty pins by Traly
If pin collecting is your game, then Traly has your six.
For the first time ever, Traly will release limited-edition pins based on the Call of Duty franchise. These pins will be released on Pin Club starting in December 2018, and new series with fresh designs will come throughout 2019.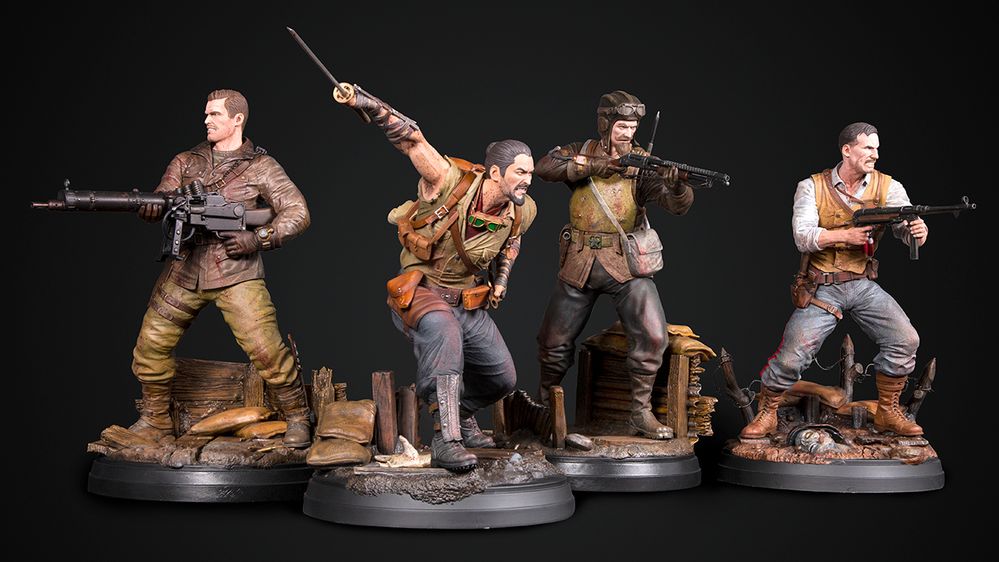 Collect your favorite characters from the Black Ops series
Dempsey, Takeo, Nikolai, Richtofen. The Primis crew defined Black Ops' Zombies mode for nearly a decade, and now they could be on a collector's shelf near you.
The Activision Collectibles – Call of Duty: Black Ops Zombies Origins Statue Series are hand-painted in the likeness of the in-game crew in high and authentic detail. Each statue stands approximately 14" tall and is in 1:6 scale. All four characters will be available later, and Richtofen's is available now for pre-order.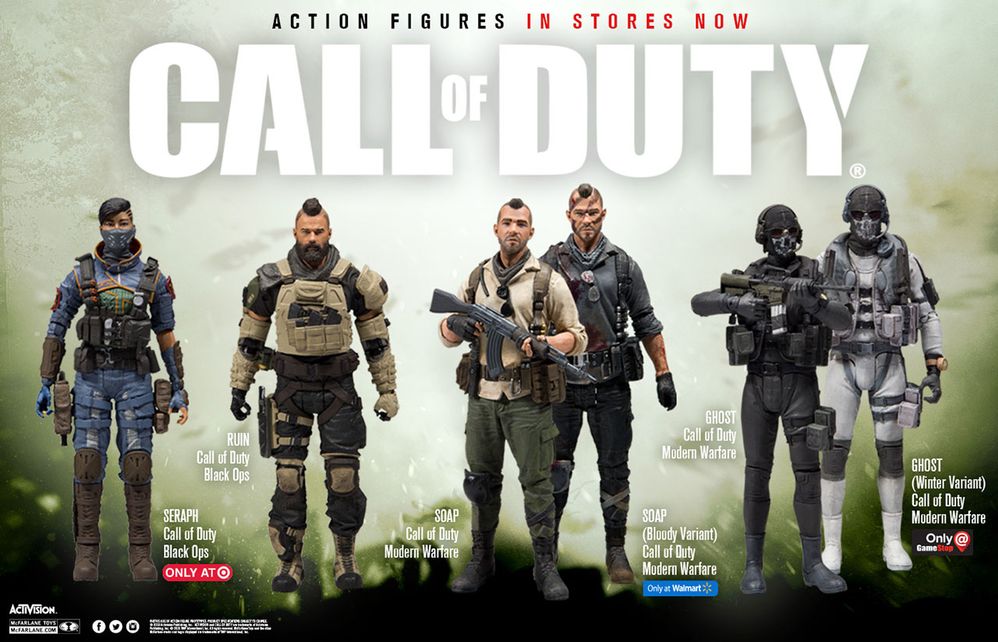 New Specialists and Classic Call of Duty Characters from McFarlane Toys
Another awesome set of Call of Duty collector figures comes from McFarlane Toys. These highly detailed figures from across Call of Duty history include characters like Donnie "Ruin" Walsh, Seraph, John "Soap" MacTavish, and Simon "Ghost" Riley, and are customizable with 14 points of articulation for dynamic posing.
Each figurine costs $19.99 and are available in October 2018. Along with the standard three figures, Target, Walmart and GameStop also have their own store exclusive figurines with Seraph, Bloody Soap, and Winter Ghost respectively.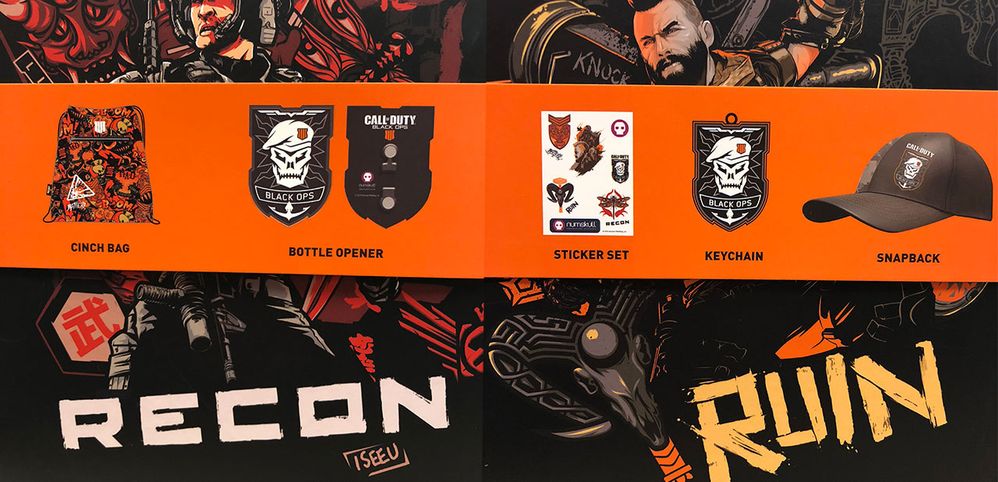 Numskull's Entire Call of Duty Line
Numskull is back this year with a huge shipment of Call of Duty goodies. Fly your Specialist flag with this Call of Duty Black Ops 4 Crate Box. It has vivid artwork for collectible display, and the snapback hat, accessories and sticker set add swagger to players' everyday ensembles. Available exclusively at Best Buy.
In fact, Numskull's entire lineup of products is chock full of awesome, and just to highlight a few of the items that they have on offer check out this drawstring backpack, a steel mug to hold whatever beverage you enjoy while gaming, and a Monkey Bomb Keychain.

Classic Board Games with a Black Ops Twist
Let's face it: Call of Duty: Black Ops 4 is fun, but sometimes, a good board game with a few friends and family can make for a great break in between Multiplayer, Zombies, and Blackout sessions. Lucky for #CODNATION, USAopoly created special Call of Duty versions of two classic board games: Monopoly and Risk.
MONOPOLY®: Call of Duty Black Ops will see you racing around the board to buy, sell and trade your favorite Multiplayer maps from Black Ops history, such as Nuketown and Fringe.
MONOPOLY: Call of Duty Black Ops is available now from various retailers.
RISK®: Call of Duty Black Ops Zombies takes the game of strategic conquest and drops it right into the Zombies universe. Play as either "Tank" Dempsey, Edward Richtofen, Takeo Masaki, or Nikolai Belinski while attempting to wrest control over familiar maps from the series against each other and the zombie horde.
RISK: Call of Duty Black Ops Zombies is available now, exclusively at GameStop.
No matter what you decide to get for you or the fellow Call of Duty fan in your life, we hope you enjoy the start of another exciting season with the release of Call of Duty: Black Ops 4!
For more intel about Call of Duty: Black Ops 4, be sure to visit CallofDuty.com/blackops4 and follow @CallofDuty and @Treyarch on Twitter.