Call of Duty: Black Ops 4 is front and center at E3 2018 with a playable Multiplayer demo for fans to experience months ahead of the game's official launch on October 12.
Fans have been lining up around the Activision and PlayStation booths to get their hands on Black Ops 4 Multiplayer – following their games, here's what some of them had to say:
"It was really fun! It involves a lot more tactical gameplay rather than just run-and-gun." — Gavin from Frisco, Texas
"It was fresh; really awesome." — Timothy from Los Angeles, California
"The graphics were great, and it felt like the maps played a lot more of a role in gameplay." — Kevin from Dallas, Texas
"I liked the graphics. It's more realistic and more detailed, and there were more options to customize your weapons and classes." — Valerie from Freeport, New York
"Black Ops 4 is awesome. They brought back perks I loved, the graphics were insane. The guns were solid and attachments were great. I'm definitely going to buy it when it comes out." — Kevin from Queens Village, New York.
"I played Seraph and liked how she could control areas of the map, and I also liked how Ruin could clear out an area with his Gravity Slam." — Jett from Indianapolis, Indiana
"I liked the new game modes. The last one we played took Search and Destroy, Domination and Team Deathmatch and put them all together. It's everything we wanted in Call of Duty." — Jade from Indianapolis, Indiana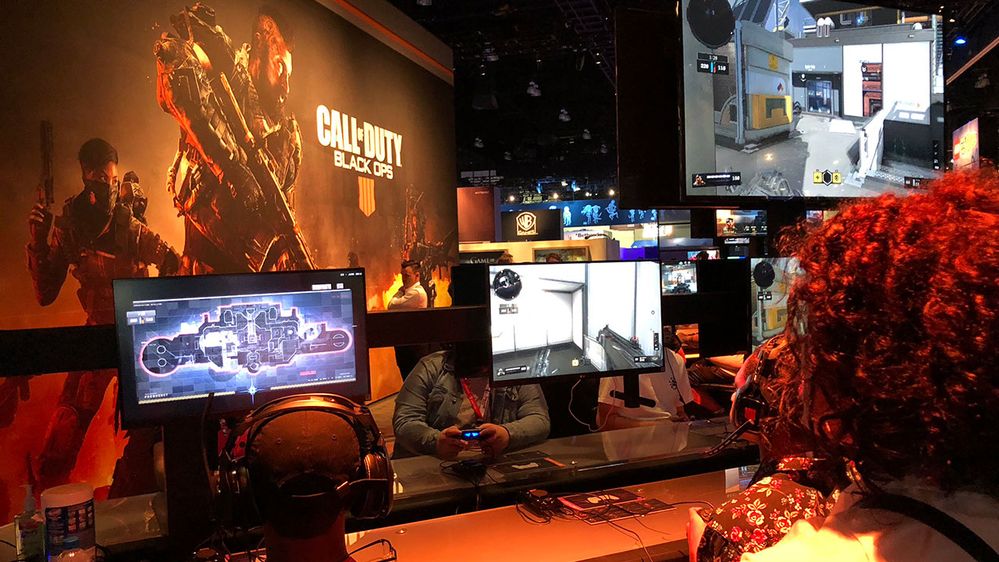 "I used Firebreak because he was good in Black Ops 3... And in Black Ops 4, his Reactor Core radiation ability is really good!" — Kalpit from Atlanta, Georgia
"I love the whole strategic aspect because it brings the team together, and you need to communicate with your teammates to win. I used Recon, because I love how you can use his Ghost ability to reveal areas for your teammates. It gives you an advantage in whatever battle happens next." — Alexis from Palm Desert, California
"It plays smooth, the guns feel balanced and the Specialists are fun. I used Ruin for his grappling hook because it allows for a lot of outplay maneuvers."  — Ryan from Hartford County, Maryland
"The specialists were great. I liked Battery because I got a four piece with her, and she has these sticky grenades that are really effective." — Zane from San Diego, California
 "I thought it was amazing. Everything Call of Duty is super-fast paced and super crazy... It feels tight and more team based. "I was trying to help all my homies. I played as Crash and It felt really cool staying back and healing everybody." — Kiara from Denver, Colorado
"I'm all about the new health bars and the healing; it adds a new dynamic to the game. I used Seraph. She looked awesome and the Annihilator is great. Who doesn't love one shot kills?"— Logan from Denver, Colorado
"The maps seemed fast-paced and all close-quarters, and it was a fun boots on the ground experience. I used Crash because usually in video games, I play support. There was one point where everyone's health was down and I used my special, which helped two of my teammates win their fights." — Thomas from Ontario, California
For more intel about Call of Duty: Black Ops 4, be sure to visit CallofDuty.com/blackops4 and follow @CallofDuty and @Treyarch on Twitter.