Earlier this week Activision announced the Fear Not Personalization Pack for Call of Duty: WWII, which was developed by Sledgehammer Games in partnership with artist Jason Heuser. All proceeds earned by Activision for this Pack go to placing veterans into high-quality jobs through the Call of Duty Endowment.
We spoke to Dan Goldenberg, the Executive Director of the Call of Duty Endowment about the goal of the Endowment, and what it was like to collaborate on this very unique Personalization pack with Jason Heuser.
Activision Games Blog: What is the Call of Duty Endowment?
Dan Goldenberg: The Call of Duty Endowment is a non-profit foundation exclusively focused on putting veterans into high-quality jobs. We do that by finding and funding the best performing non-profits in the United States and the United Kingdom, and because of that, we've been able to place veterans in the US at 1/6 the cost of the federal government's efforts. Ultimately that has led to placing more than 46,000 veterans into good jobs. We're working our way towards a goal of 50,000 placements by the end of this year, and we're well on our way to it.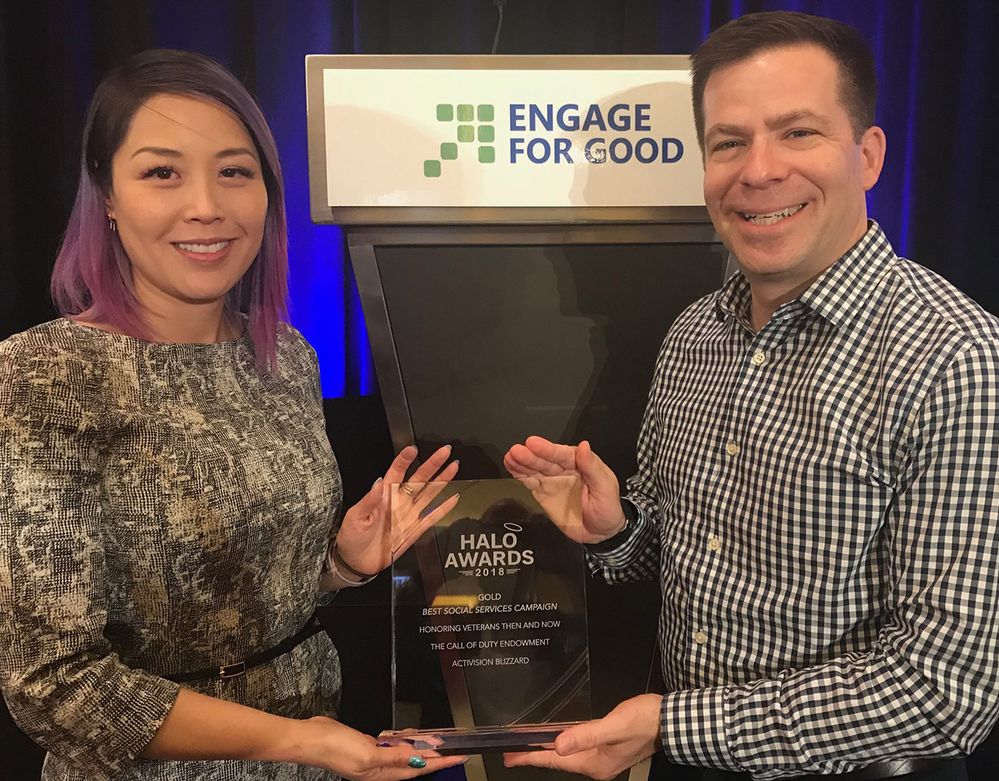 Activision Senior Director, Consumer Marketing Carolyn Wang and C.O.D.E. Executive Director Dan Goldenberg
The Endowment just received a prestigious Halo award. Can you tell us about that?
We were honored to be given the 2018 Gold Halo Award in the best social services campaign category. Our campaign was called "Honoring Veterans Then and Now," which was a partnership between Activision and the Call of Duty Endowment during the Call of Duty: WWII launch. It really was an incredible campaign, consisting of multiple elements including videos where we had experts talking about the context of World War II and interviewing some of the combat veterans who actually fought in World War II, as well as the Race to Prestige, which the community is very familiar with. The end result was that over 2,400 veterans were placed in jobs because of this campaign, which is fantastic.
Can you tell us about your own military service?
After college, I flew E-2C Hawkeyes in the Navy, specifically off of the USS Enterprise and the USS Eisenhower, flying missions over Bosnia Herzegovina and Iraq, and I did a tour in the Pentagon. I got off active duty a month before 9/11 and then went to business school, but while I was there we were hit and I decided to go back into the Navy Reserve, and I'm still in there today. I'm what we call a "drilling reservist," so every month I go to my unit and I'm actually on my fourth commanding officer tour.
What are some of the highlights of the Call of Duty Endowment?
We're really focused on, making sure every dollar is well spent, and to our knowledge we're one of the most efficient charities in the country at putting veterans back to work. Since Activision covers our overhead costs, every single dollar we raise goes toward putting veterans back to work—very few charities can make that claim.  We also have GuideStar's Platinum rating—their highest level of recognition for transparency and results, which less than 2% of charities receive.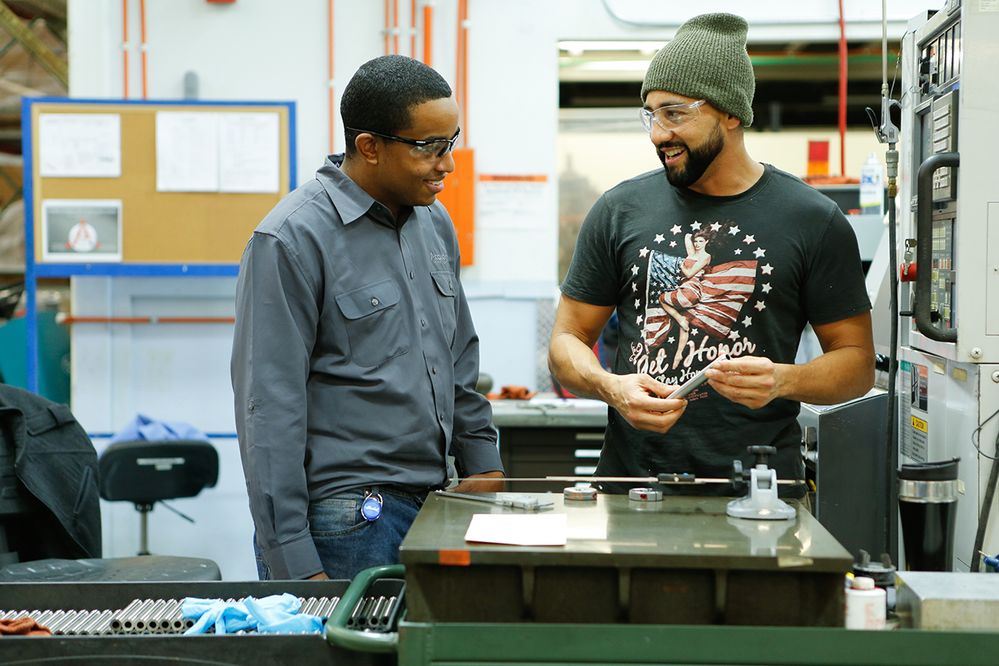 Getting veterans into meaningful work is valuable beyond just the financial impact. It's also about reintegrating them back into their community, and about helping their families and giving them a new sense of purpose. Our approach is making a huge difference, and when you start to dig in and hear some of these stories, it is very compelling.
I think about a veteran in Georgia who was in the infantry and he really believed that after he was medically discharged because he was wounded in combat, that he had nothing to offer. Through our support, he learned that, "No, you're not just door kicker--you actually have a lot of skills and attributes that companies value," and ultimately he got retrained in the information technology field and worked his way up to becoming a manager. And he has gone out of his way to pay it forward and hire other veterans.
None of these veterans are asking for handouts. They're asking for opportunities, so it's all about teaming up for them and doing everything we can to make them competitive in the job market.
Through Call of Duty and the Endowment's work, the team has gotten to know a huge array of veterans. What has that been like?
This is one of the best parts of our work. Just last week, there was a Raider Regiment Marine who had been severely wounded, and he was at the Call of Duty: Black Ops 4 Community Reveal event. He was telling the team how much Call of Duty meant to him during his recovery, and how he was so excited that he got to play Call of Duty from his bed. It's not something that we think about a lot, because while we focus most of our energy on helping veterans get jobs, it's also important to remember that we give them a lot of entertainment release in times and places when they need it.
Let's talk about the Call of Duty: WWII Fear Not Personalization Pack, which was created to help the Call of Duty Endowment's effort. How does something like this get created?
We work very closely with the studio, which in this case was Sledgehammer Games who have been incredibly supportive of our veterans' efforts. We start by brainstorming about what do we want to do, and at the Call of Duty Endowment, we've always been impressed by Jason Heuser's artwork. His pieces are just fun, kind of whimsical, but really cool. He's a legit gamer also, so he understands the gaming community and Call of Duty in particular.
We wanted to do something that was both badass and fun, so we knew that Jason was the guy to go to. We worked with him in the studio and ultimately came up with this portrayal to World War II icons, Franklin Delano Roosevelt and Field Marshall Montgomery, and the reason we wanted to feature both an American and a Brit, was to highlight this new expansion of the Call of Duty Endowment's efforts into the United Kingdom, to help symbolize the partnership then and now between the US and the UK.
When a gamer purchases the Fear Not Personalization Pack, what does it do for the Call of Duty Endowment?
All proceeds received by Activision are donated directly to the Call of Duty Endowment, which means that it goes directly to helping place veterans into jobs. High quality employment is a real challenge for veterans, and one in three veterans are underemployed. That means they're not in jobs that really maximize their potential. The Endowment is not just about getting them into any job, it's about getting them into high quality employment, and that's something these funds will further enable. What's really important is that every $504 we raise puts a veteran in a job.
Jason Heuser, who's known for his political satire and video game art, was commissioned to create the original creative behind the Fear Not Personalization Pack and Premium Theme. The original image features FDR, Field Marshal Montgomery, and a few Easter Eggs—all celebrating the US-UK World War II partnership and the Call of Duty Endowment's recent expansion to the United Kingdom to support British veterans finding meaningful employment.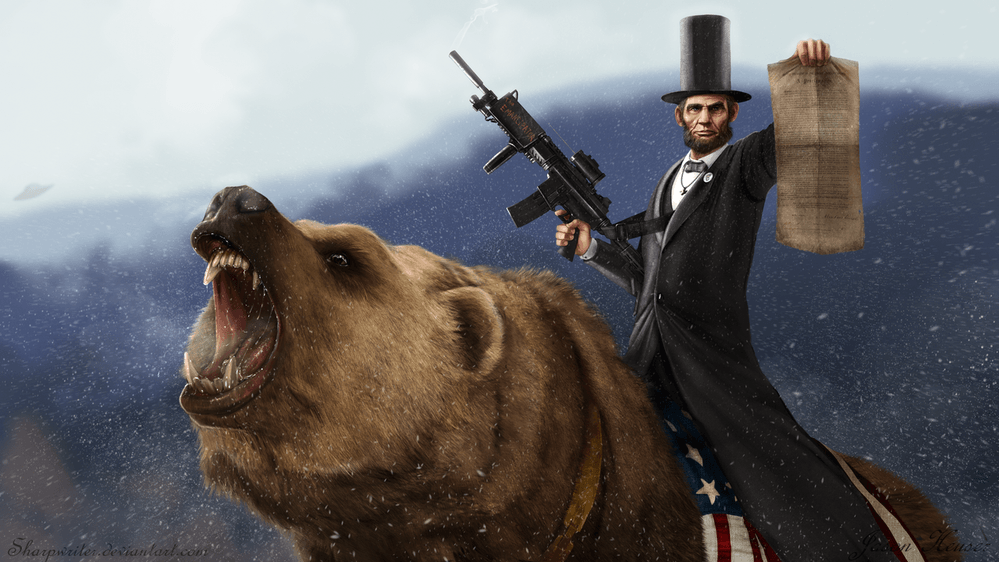 Activision Games Blog: How did you get started creating the artwork that you've become known for?
Jason Heuser: I did them on a whim, actually. Back in early 2011, I was working as a security guard and I'd been making my portfolio tailor fit different studios to try to get jobs. I just kept getting rejections, and I wasn't getting any responses, so I got really frustrated and I was like, "I'm just going to draw something that's going to make me feel better, for now." And I painted Abraham Lincoln on a Grizzly Bear.
I love history and I'm always watching documentaries, or movies, or something while I'm working. At that time, I was watching a whole series that PBS had made about the Presidents, so I was thought, "Ah, this'll be funny." And I painted that, uploaded it, and went to bed. When I woke up the following morning and it had more views than all of the other pieces of art that I'd put on DeviantArt combined in one night.
I thought to myself, "Okay, well maybe people like this stuff and I don't understand why, but I'm going to keep going with it." And that's pretty much what I've been doing ever since. I just keep doing what I think is fun and silly and people seem to respond to that and, they want to see more. So, that's how I've managed to make it work.
What inspired your artwork for the Fear Not Personalization Pack?
There were a number of ideas originally, but working with the team we narrowed it down. I like working on cars and building cars, so having the opportunity to make some type of ridiculous vehicle and featuring it in the artwork was another goal, and that actually worked out.
One of the sketches I did that they ended up liking was one where I had this tank- car-vehicle thing. Then we worked on it from there to make it look more historically accurate. It's meant to be a light troop carrier which would be for carrying a general or something. Or, in this case, the President of the United States.
It's a great image, and I noticed there are plenty of Easter eggs hidden in the artwork.
Oh yeah. That's my favorite thing to do. Sometimes I get carried away and I have to make sure I get the rest of the project done, and then it's like, "Okay, now I have a whole day where I can just put Easter eggs in things that I've been thinking about the whole time."
If you look around, you'll see that the license plate is period for New York. There's the bulldog with the star. That was just like a thing I made up, thinking of a Roosevelt decal. Well, it wouldn't be a decal then, it'd be painted back then. But it's also featured in FDR's hat, that little bulldog. That dog is meant to look a little bit like Teddy Roosevelt.
The Easter eggs are something I love doing. I love just going ham with the detail and getting in there and making stuff that most people will never see, but when somebody does see it, they're like, "My God. I never noticed that before. That's awesome."
I love the little hint that FDR has taken down several Sasquatch.
So, a fun fact with that, that's a reference to the second painting I ever did with Teddy Roosevelt fighting Bigfoot. That's meant to be a little call back to that, like the Roosevelt's are actually a family of Bigfoot hunters.
What does it mean for you to have your artwork featured in a Call of Duty game?
Oh, it's massive. This is a huge deal for my artwork. But the biggest thing for me is that I get to be featured in this game that I love and play, that all my friends play, so everybody knows it. And secondly, I get to feel good because I'm actually doing some good helping out with the Call of Duty Endowment as well. Not often do those two things happen where you get such an opportunity to be featured as an artist, and also to actually do some good.
Where can people find your artwork?
People can find me and get in touch with me on my website, my Twitter account or even on Etsy. And of course, DeviantArt is where I have most of my followers, so I have posted a lot of stuff on there.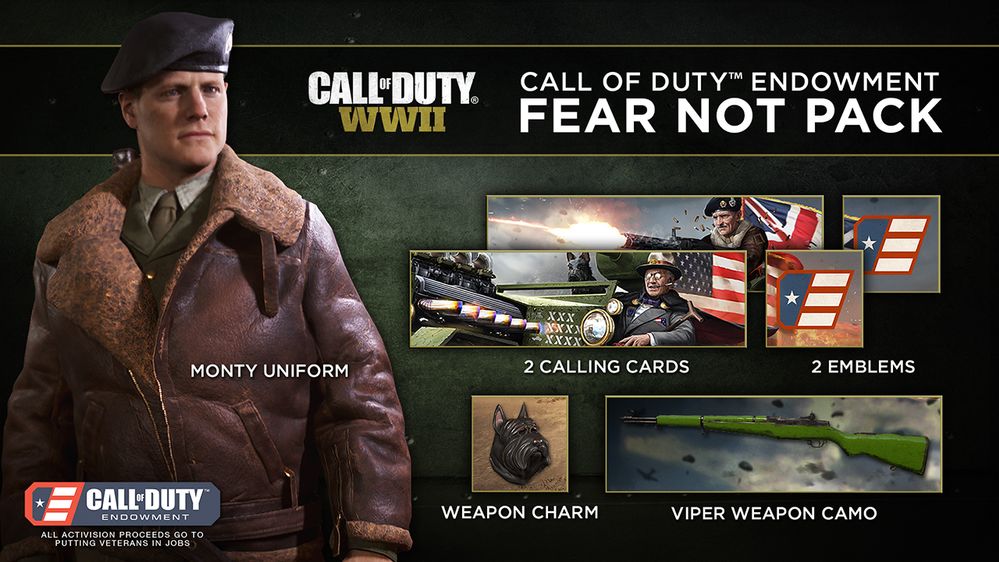 The new Fear Not Personalization Pack retails for $4.99 in the Call of Duty: WWII in-game store and the Sony, Microsoft, and Steam online stores. Exclusive to PlayStation, a premium animated theme will also be available for $3.99. Additionally, PlayStation gamers also can purchase a bundled Fear Not Personalization Pack along with the previously released Bravery Personalization Pack and the animated Theme for Call of Duty: WWII, at a discounted retail cost of $9.99. All proceeds received by Activision from sales of these digital items to consumers will go toward Endowment programs dedicated to finding veterans high quality work. The Pack features an in-game Weapon Charm, a Monty Division Uniform, Viper Weapon Camo, two specialty Calling Cards, and two Emblems.
For more intel about Call of Duty: WWII, visit CallofDuty.com/WWII and follow @CallofDuty and @SHGames on Twitter.